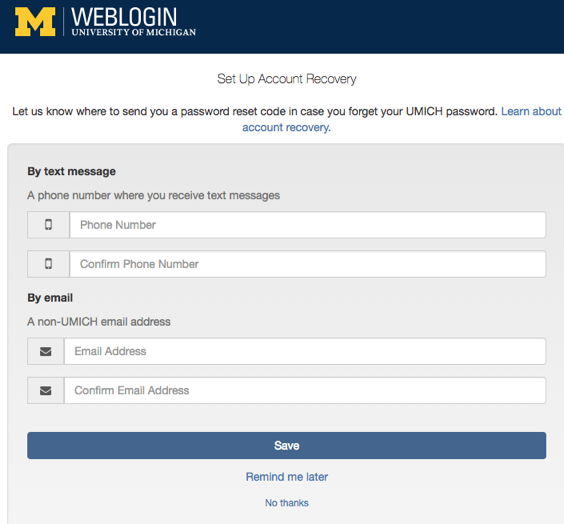 If you ever forget your UMICH (Level-1) password, you can efficiently recover your account access as long as you have already completed some simple, advance setup. ITS has long offered a self-service account recovery option, but many users were unaware of the advance setup requirement until it was too late.
To address this gap, ITS is adding a prompt during U-M Weblogin to help people to provide account recovery information. Prompting people when they are logging in, instead of requiring them to go to a separate website, is a secure, fast, and easy process. After a successful pilot with the College of Pharmacy, more than 20,000 users, including many students, added a mobile phone number and/or non-UMICH email address to their account this summer.
In the coming weeks, more faculty and staff will start seeing the account recovery prompt at Weblogin. According to DePriest Dockins, assistant director of Identity and Access Management, "Giving everyone at U-M a more streamlined option to provide their account recovery information is a huge win. It seems small, but the impact is enormous when you consider it literally affects everyone with a U-M uniqname."
You can check or change your account recovery information anytime at UMICH Account Management. For detailed instructions, see Set or Change UMICH Account Recovery Information (for Password Resets).