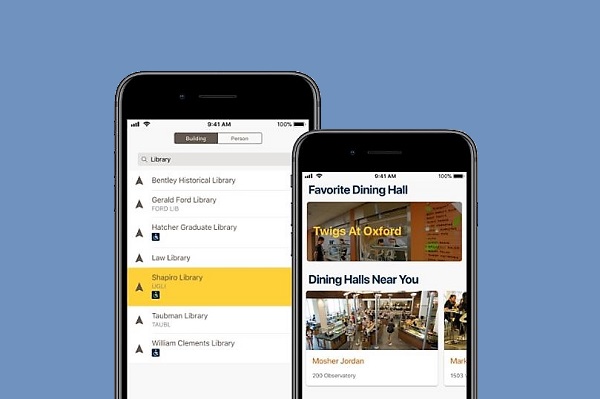 If you were one of the many who joined the beta testing for the Michigan App, you've hopefully taken the opportunity to explore the new features and more modern interface, and provide input. After several months of incorporating tester feedback, the new Michigan App is now available to everyone!
The new Michigan App was first released to beta testers in November, 2017. The ITS Mobile App Development team, managed by Will Burns, focused on incorporating improvements and fixes based on feedback from beta testers to build new features that promote success in both academic and personal goals for students, faculty, and staff. The intention is that feedback will continue throughout the life of the Michigan App to ensure the app grows with the changing needs of the U-M community.
Some of the most impressive features in the new Michigan App include:
Personalized information like class schedule information for students
Important in-app messages and reminders related to student academic life
Location-based content like bus stops, parking information, and dining halls
Food preference icons in Dining Hall menus to indicate which items are gluten free, halal, spicy, MHealthy, vegan, and vegetarian
Places (campus buildings) and people (students, faculty, and staff) search
Upcoming featured events
The new Michigan App also provides a more user-friendly interface. David Nguyen, an undergraduate in the School of Information, said one of the benefits is the look and feel of the new App. "I definitely love that the new app looks more like an iPhone app rather than a website. I'm a huge fan of it!"
The new Michigan App uses cloud services to get new features and fixes to users more efficiently, and with little disruption. Don't wait any longer. Download the Michigan App today!