G Suite is introducing an all-new Gmail, with a brand new look on the web, advanced security features, Google's suggested replies, and even more integrations with other G Suite apps. They are also introducing a new way to manage work on the go with Tasks.
The U-M Google team entered the UMICH domain into the early adopter program for the new GMail. If you are curious, check out the new Gmail on the web to see what's new and what has changed. We also encourage you to tell us about your experiences to help us prepare campus for the change. Google is still rolling out new features, some of which include:
Hover over unopened messages in your inbox and click an icon to archive, delete, mark as unread (or read), or snooze messages.
Postpone reading emails to a future date or time that's more convenient. Learn how to snooze emails.
Quickly reply to emails using phrases that appear based on the message you've received. Learn how to use Smart Reply.
You might see old emails at the top of your inbox with a suggestion or "nudge" to reply or follow up.
Change how spacious or compact you want your inbox view. In the top right, click Settings > Display density.
Tip: If you choose Default, you'll see a preview of attachments from your inbox.
You can now use Google Calendar, Keep, Tasks, and Add-ons while in Gmail.
To try out the new Gmail and get comfortable with it before it becomes general availability, select Try the new University of Michigan Mail from the Settings  menu. You can switch back to the Classic University of Michigan Mail using the same Settings menu. (Note: You may need to refresh your web browser.)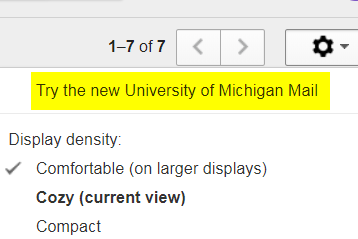 Google has not yet announced when the new Gmail will become permanent. The ITS Collaboration Team continues to monitor developments with the new format, and will advise campus when any new updates are available. In the meantime, if you want to let Google know what you think of the new Gmail, click Send feedback from the Settings menu.