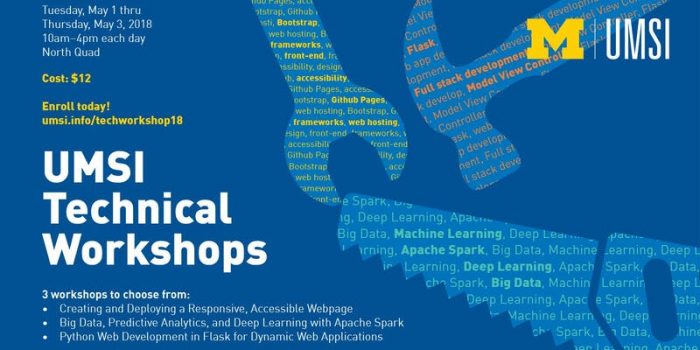 Interested in building technical skills? Enroll in one of three concurrent workshops offered by the School of Information.
For the second year in a row, UMSI is presenting short, technical skill-building workshops taught by expert faculty and graduate students to help students gain confidence prior to a summer internship or to add to a resume or portfolio. The workshops offer an ungraded, welcoming environment to develop technical skills. Full descriptions of each workshop and prerequisites are available online.
Register: umsi.info/techworkshop18
Tuesday, May 1 – Thursday, May 3
10 a.m. – 4 p.m. daily, with one-hour break at noon
$12/person
Workshop choices include:
Creating and Deploying a Responsive, Accessible Webpage




Taught by

Colleen Van Lent

Big Data, Predictive Analytics and Deep Learning with Apache Spark




Taught by

Chris Teplovs

Python Web Development in Flask for Dynamic Web Applications




Taught by Maulishree Pandey & Sonakshi Watel
Direct all questions to umsi.technical.workshops@umich.edu. NOTE: These workshops are concurrent; you may only register for one.