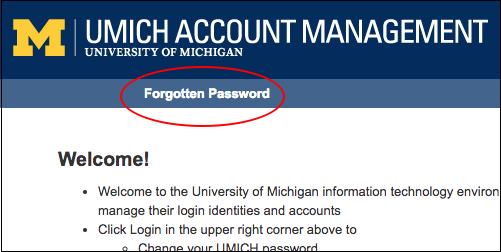 Beginning February 24, you will be able to reset your UMICH (Level-1) password yourself without having to remember answers to your security questions.
Before you can reset your UMICH password online at UMICH Account Management, your identity must be verified. For several years that has been done through the use of pre-set security questions and answers along with a non-UMICH email address. You answer the questions, and a password-reset code is sent to your previously entered external email address.
On February 24, the security questions will be retired, and you'll be asked instead to verify your identity by providing either your UMID number or your date of birth. Other than that, the process for resetting a forgotten password yourself will remain the same. You still need to have previously provided an external email address for account recovery. A password reset code is sent to that address after you verify your identity.
Our self-service uniqname creation applications (Uniqname & Account Setup for incoming staff and students and Alumni Uniqname Setup) will also be updated on February 24 to remove all references to security questions and to instead ask people to provide an account recovery email address as part of the setup process.
ITS documentation about creating and managing uniqnames and passwords will be updated on February 24. If you mention security questions for resetting UMICH passwords in your own service documentation or web pages, please make updates after February 24.