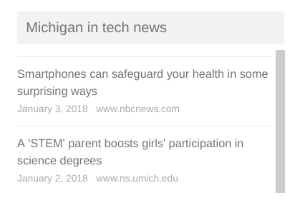 Michigan IT News is kicking off 2018 with some new site features that will hopefully make your reading experience more enjoyable and informative. Each section of the site will now display a custom sidebar with additional content pertinent to the category's subject matter. All pages will continue to have a search box, tag cloud, and archive drop-down menu. The landing page, which features the site's main blog roll, will display upcoming Community of Practice meetings in the sidebar as it did previously. Other sections will show the following custom content in their sidebars:
Features and Campus News: Both of these sections now display a scrolling feed of tech news from external sources that reference U-M research, developments, or experts.
Jobs, Training, & Events: Previously called Training & Events, this section has added the most recent IT job listings from the U-M jobs site.
Safe Computing: This section sidebar now lists the most recent security and phishing alerts from the Safe Computing website.
Projects & Services: Sourced from the ITS Service Status page, the sidebar for this section will now show current issues and upcoming scheduled maintenance.