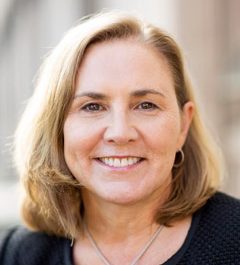 As IT professionals, we're often straddling two worlds: the world of the present and the world of the future. I was reminded of this last month, when in one week I had my first ride in a truly autonomous vehicle, as part of Mcity's driverless shuttle service that will launch on North Campus this fall, and in the next week I stepped back through time via the numerous technology-related tables and displays at the #MStaff200 event.
In the world of the present, we support systems that are wedded to specific business processes, often with a backlog of technical debt and legacy infrastructure that leaves little room for exploration. In the world of the future, we explore technologies in truly innovative ways, often implemented differently by multiple groups and not easily scalable. The need to straddle both worlds won't diminish—supporting the business processes of our institution is critical, and encouraging innovation (and the field of experimental uses of technology it produces) is healthy for a learning organization. But, with the proliferation of big data and maturity of cloud services, we have a tremendous opportunity to define a clearer path between them. By considering and investing more in the cloud, we can become more resilient, more nimble, and better partners to our constituents and each other.
This was the focus of a trip I took at the end of June to South Bend, Indiana. I was accompanied by approximately fifty IT leaders from all four of our campuses to visit Notre Dame to see how another university has moved 80% of their IT services to the cloud. We learned more about what did and didn't work for them, and used time on the ride there and back to discuss what might be applicable to our environments, our teams, and the people we support. Being more strategic about how we use cloud services to support the university's missions will take strong teamwork with each other, our peers, and industry, and this trip was an initial step.
IT staff across U-M have made a lot of progress working with cloud vendors and applying cloud technologies to date, and there's a lot more to come. (You can look for regular trainings with cloud vendors in the Training & Events calendar.) We'll also focus on the cloud in this year's Michigan IT Symposium. The call for proposals will be announced soon, and I look forward to seeing the ideas and conversations that lead up to and come out of that event. Together, we are working to transform how we support researchers and students, so they can change the world.
As always, please send me a note or stop and say hello if you see me on campus. I'd love to hear from you. I hope you enjoy all that summer in Michigan has to offer!
Kelli
__________________________
Kelli Trosvig
Vice President for Information Technology and CIO
University of Michigan
Send questions or comments to Kelli through the Office of the CIO website or via email at trosvig.cio@umich.edu.