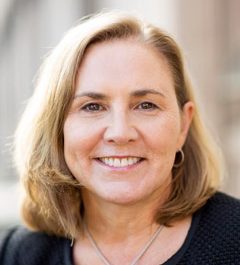 What a weekend for the graduation celebration for the University of Michigan! It was an honor and a privilege to be there, in the university's 200th year, to pay tribute to the students and alumni who are part of this great institution in so many different ways.
On Friday evening I attended an event to honor the recipients of the U-M Bicentennial Alumni awards. The diversity and the impact these alumni exemplify is the best Michigan has to offer, from a factory worker who took night classes and went on to win the Newbery Medal, to a recent immigrant who went on win Time magazine's Inventor of the Year award not once but twice, to a fifth-generation Michigan legacy and volleyball player who went on to lead global relief efforts across the world. But what struck me the most about all of the award recipients was their humility and the impact that Michigan had on their ability to contribute.
On Saturday morning, I bundled up and walked to the Big House for commencement. Commencement is something I always anticipate with joy. Not knowing what to expect, I made my way through neighborhoods and parking lots on my walk to the stadium, passing families celebrating their graduates along the way. Some were dressed up in their best, recognizing the significance of the occasion for their graduates as well as the family. Others were more akin to tailgate celebrations, which I was tempted to join — it was about the temperature of a fall football game, after all! But everyone shared the pride and joy that I felt being part of this important day.
The ceremony was a moving combination of a focus on our diverse student body, Michigan's unique impact on higher education, and the potential of what is to come. And our recent Oscar winners, Benj Pasek and Justin Paul, led graduates from the School of Music, Theatre & Dance (SMTD) in a tribute to Michigan. My photo from the stage, below, doesn't do justice to the energy and inspiration I felt in the stadium during the proceedings.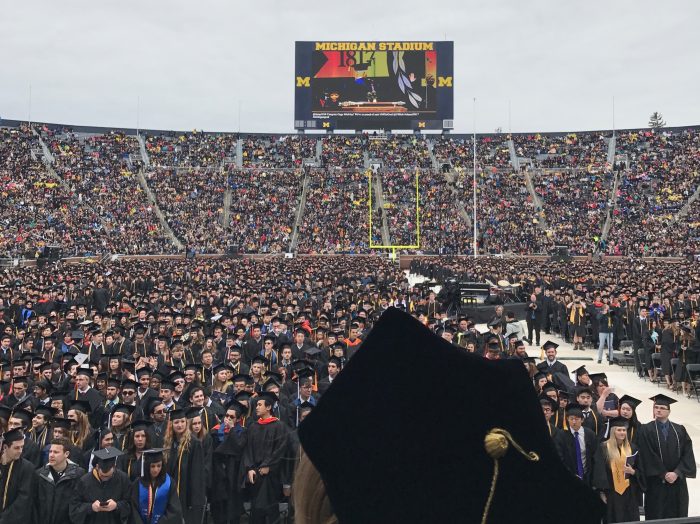 Finally, on Sunday night, I was lucky enough to attend the Senior Showcase for SMTD's Department of Musical Theater at the Michigan League. It is a short review that our musical theater students perform to launch their careers. Next week they will put on the Showcase for prospective agents, but Sunday was a friendly audience, full of proud family and friends. It takes real courage and passion to head to Broadway the week after graduation and put yourself out there. Just like our distinguished alumni, our current students have benefited from their time here at Michigan and are ready to take on the world, and we have benefited from having them here on campus.
To the Class of 2017, congratulations. And to the IT staff, partners, leaders, and peers across the university, thank you for your contributions to making U-M a more connected, innovative, and supportive community for our students to succeed.
In the words of President Schlissel, "Go discover. Go achieve. Go serve. And Go Blue!"
Kelli
__________________________
Kelli Trosvig
Vice President for Information Technology and CIO
University of Michigan
Send questions or comments to Kelli through the Office of the CIO website or via email at trosvig.cio@umich.edu.