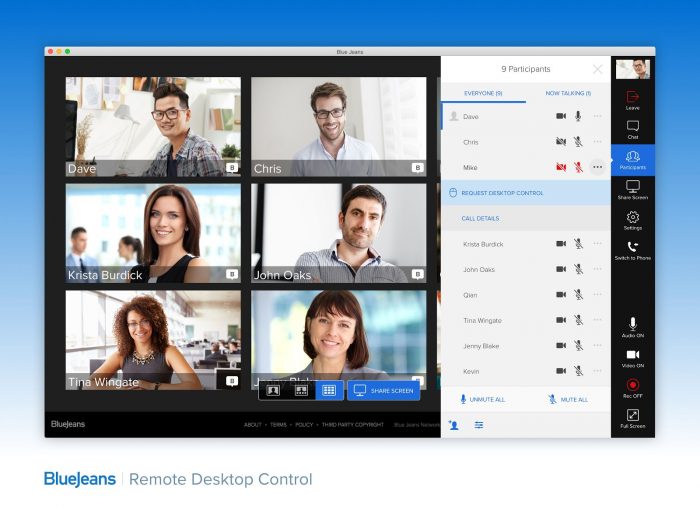 Want to control another user's desktop like an IT support pro?
With a new update to the BlueJeans videoconferencing app, you can now request and grant access in any meeting. BlueJeans Network calls it Remote Desktop Control, and it's available now as long as users have version 1.26+ on Windows and Mac. Download the BlueJeans desktop app to get started.
A common use case for Remote Desktop Control is the ability to collaborate remotely with colleagues and customers by controlling the same desktop. In addition, it allows easy troubleshooting for support teams that are in different locations than their end users. Watch a short video to see how to control another user's desktop in a BlueJeans meeting.
Other new BlueJeans features
First-time users will not require the Chrome extension before installing the BlueJeans app.

The BlueJeans app now allows users to copy their Personal Meeting ID to share easily.

BlueJeans Outlook Add-in 4.0 improves performance in Microsoft Outlook.

BlueJeans Google Calendar Extension 2.0 adds easy buttons to schedule and join meetings. It also now launches the app directly when users click "Join BlueJeans Meeting."

BlueJeans Primetime has also been enhanced with an HTML5-based video player, support for presenters on Android, a new event registration feature, and more.