With the rise of high-tech in nearly all aspects of our world, it's important to appreciate and continue practicing low-tech, hands-on skills, which even the most innovative of technologies would be meaningless without.
This is the goal of Kevin Judge, scenic designer and associate professor of theatre & drama, who aims to find the right balance of high- and low-tech methods to create a well-rounded educational model in which these technologies work together, creating an enriching and enhanced environment.
"The technological tools, especially the most cutting-edge stuff, are an incredible asset to your work; they can speed up what you do and open up new horizons," Judge said. But, these tools help "most effectively when you have a solid base to leap off from."
This belief is shared by Sarah M. Oliver, costume designer and assistant professor of theatre & drama, in designing and building costumes. Both agree that while the technologies available to students are amazing, "there's something that can be lost in translation if they don't get to touch the three-dimensional."
"You can pull a fabric sample and drop it onto your iPad. You can squish it, manipulate it, squeeze it, twist it. But if you want to actually understand how it drapes on the body, you've got to put it on the body and drape it," Oliver said. "You still have to know how to draw a figure. You have to understand shadow, form, and shape."
This idea expands to set design as well. The world of theatre also covers a broad spectrum in which SMTD graduates might work in terms of budgets and resources, from local theatre productions to big-budget shows or educational settings.
In Judge' own first job as an assistant set designer after college, "I went to a guy's house, and we worked in basically his living room," he said. There was no 3-D printer or laser cutter. "He was like, make this model, and it was just, you sit there and make it."
More recently, Judge worked on the design process for the fall theatre & drama production "The Heart of Robin Hood." As the scenic designer, he began to ask "How am I going to abstract these trees?" when designing the Sherwood Forest. "How am I going to take that and make it into something that is creatable and potentially repeatable on stage in some way which is not totally cost and labor prohibitive?"
He ultimately turned to artificial intelligence (AI) to spark inspiration. Eventually, he found an image from which a design concept was developed. While this solution was high-tech, he found that in order to bring the scene to life, the team needed to return to basics: building scale models, a full-size prototype, refined the concept further, draping the trees with fabrics and lights before a team of students and scene shop professionals built the design that would make up the Sherwood Forest on the Power Center stage.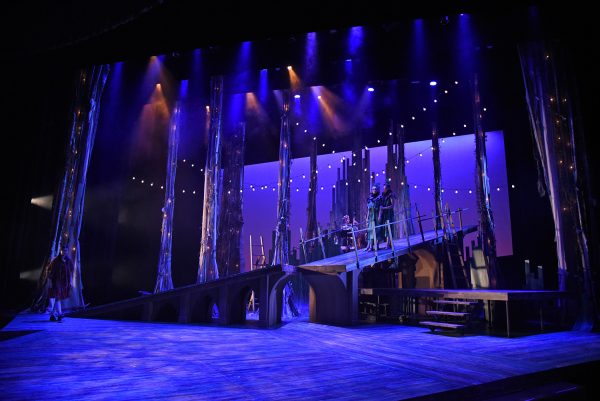 This is why students "need to put their hands on things and do the tactile work," Oliver said. Once they master the basics, then they can implement the high-tech and, "look at the information again with a whole other lens."
Article summarized from U-M SMTD's Michigan Muse: Striking a Balance: A Mix of High and Low Tech in Costume and Scenic Design