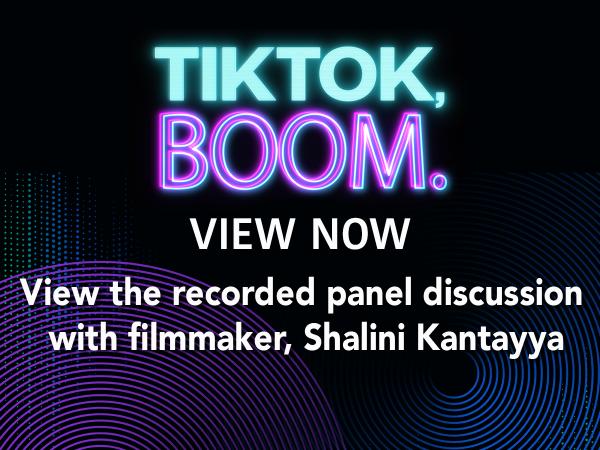 The U-M Dissonance Event Series explores issues at the intersection of technology, policy, privacy, security, and law, and seeks to increase university-wide, multidisciplinary discourse. ITS Information Assurance and Dissonance hosted a panel discussion of Shalini Kantayya's film Coded Bias in 2021. The filmmaker's latest documentary, TikTok, Boom., told another complex story that spurred a thoughtful and engaging conversation with the filmmaker and a panel of U-M faculty, students, and staff in March.
Kentayya's experience of starting to use the app during the COVID-19 pandemic was similar to panelist Tianyi Zhai's, an undergraduate student at the College of Literature, Science, and the Arts (LSA) and an intern in Information and Technology Services (ITS). Both the filmmaker, as a content consumer, and Zhai, as a content creator, recognized the "addictive" nature of the app—its ability to collect personal information, create "psychological profiles" of its users, and serve them with content heavily moderated by algorithms and TikTok employees.
The panel also discussed the impact of persuasive technology platforms like TikTok on children and young adults in an environment that provides minimal legal protections. David Choberka, the Andrew W. Mellon Curator for University Learning and Programs at the University of Michigan Museum of Art (UMMA) advocated for the need to help adolescents become thoughtful consumers of this technology. Maddie Agne, another LSA undergraduate student and author at the Michigan Daily, stressed the need for education, especially for young people vying for the life of influencers: "It's not necessarily a glamorous lifestyle, it is one that requires a lot of discipline and a lot of maturity as well."
Dr. Nicole Ellison, the Karl E Weick Collegiate Professor of Information at the School of Information (UMSI), brought up the gender differences in TikTok experience evidenced in the film, and the panel engaged in a discussion about balancing the very real harm users can experience online with the power for creating community and expressing creativity.
Kentayya and the panel shared optimism on how the TikTok story ends. Dr. Sarah Murray, an assistant professor of Film, Television and Media and assistant professor of Digital Studies Institute at LSA, admired the level of self awareness, self care, and mental health focus in Gen Z when it comes to technology. Kentayya could not agree more: "I make documentaries because they remind me that there are everyday superheroes among us, and among the most inspiring are the Gen Z influencers in my film."
To watch the conversation and learn about Kentayya's next project, visit the TikTok, Boom. event page on the Safe Computing website. Refer to Past Dissonance Events to view other events in the U-M Dissonance Event Series.