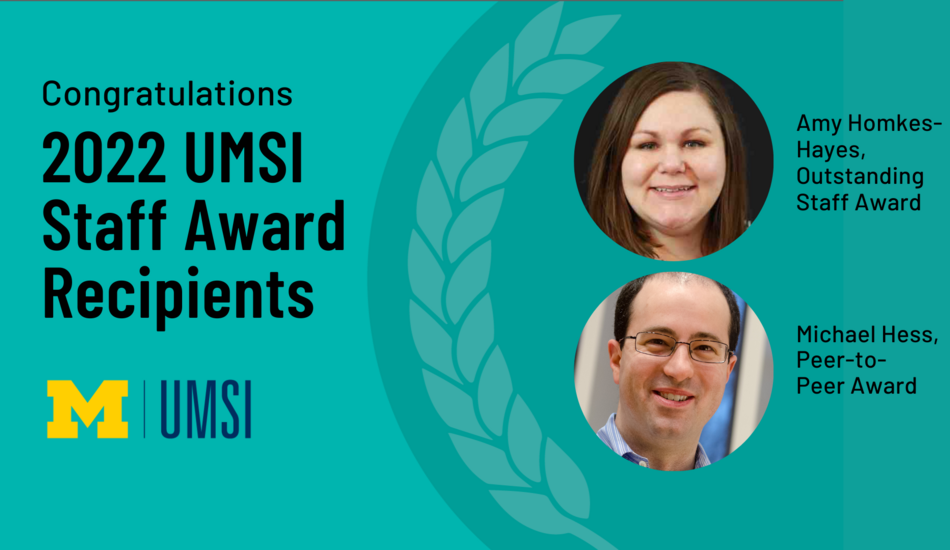 The University of Michigan School of Information (UMSI) celebrated the persistence and excellence of two staff members in 2022. The annual recognitions, announced this year at the November staff meeting, went to Amy Homkes-Hayes, who received the Outstanding Staff Recognition award, and Michael Hess, who received the Peer-to-Peer award. The honorees are recognized for sharing their skills to uplift students and colleagues, and for helping the community sustainably navigate change.
Outstanding Staff Recognition award
The Outstanding Staff Recognition award honors a UMSI staff member who contributes in an exceptional way to advancing UMSI's mission. Any regular UMSI staff or faculty can submit nominations.
This year's recipient, Amy Homkes-Hayes, is associate director of UMSI's online programs and strategic advisor to the Leadership Team on online programs and digital content. In that role, she is recognized as a strong communicator who is dedicated to solving problems with a focus on student success.
Peer-to-Peer award
The Peer-to-Peer award honors a staff member whose efforts are commendable in service to other staff or to the work environment at UMSI. Any regular UMSI staff member can nominate a peer for this award.
This year's recipient, Michael Hess, is senior technologist and adjunct lecturer in information, and earned his Master of Science in Information at UMSI in 2006. 
Read the full article about staff awards on the School of Information website.