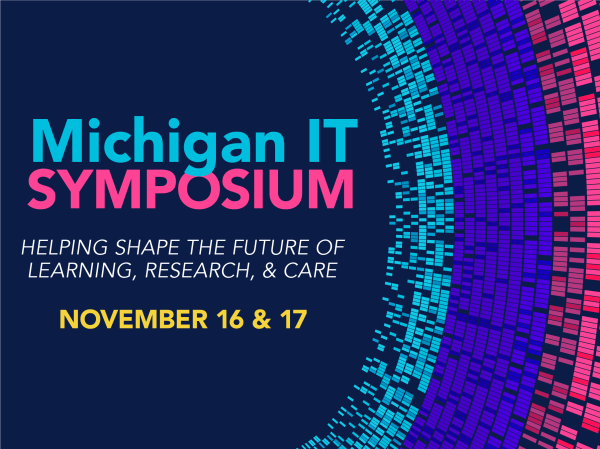 Register today and join colleagues from across U-M for the 2022 Michigan IT Symposium, November 16 and 17 in a hybrid format! The theme for this year's Symposium is Helping Shape the Future of Learning, Research, and Care. Experience this energizing opportunity to learn new skills, connect with other technology professionals and advocates, and hear from campus leaders and innovators who are empowering the leaders and best through their work!
A Hybrid Symposium using Fourwaves
The 2022 Symposium is using an interactive, online platform called Fourwaves, allowing presenters and attendees new ways to experience all aspects of the symposium. Fourwaves provides an intuitive and centralized, SaaS web platform that streamlines registration and livestreams interactive presentations and poster presentations.
"Asmat (Symposium co-chair) and I are really excited for the symposium this year! Coming back in-person to the Michigan League with the virtual option was important to us and the planning committee. We hope these options allow everyone the chance to attend," expressed Dush Fernando, co-chair for the event. "Dr. Tazin Daniels is a vibrant speaker everyone is sure to enjoy as our keynote, and our posters and breakout sessions offer diverse, innovative topics highlighting great work from across the Michigan IT community."
Details at a glance
Co-Chairs: Dush Fernando, LSA Technology Services, and Asmat Noori, ITS Information Assurance
Wednesday, November 16: 1 p.m. – 5 p.m. — All virtual
Leadership Presentations: Ravi Pendse, vice president for IT and CIO
Keynote: Dr. Tazin Daniels, associate director at the U-M Center for Research on Learning and Teaching (CRLT)
Poster Session: View and interact with 15 poster presenters within the Fourwaves platform during the poster session from 3 p.m. – 5 p.m. on Wednesday, November 16.
Thursday, November 17: 9:15 a.m. to 4:30 p.m. — Hybrid at the Michigan League
In-person Networking Opportunities: We are back in-person at the Michigan League for attendees interested and available to gather. Enjoy coffee and networking in the Ballroom prior to the welcome and overview at 9:15 a.m. Lunch will also be provided for people attending in-person, if registered before Thursday, November 10. 
Spotlight Event: Bhargav Sri Prakash, founder & CEO of FriendsLearn
Breakout Sessions: Select from 20 breakout sessions on a range of topics including digital fluency, workforce development, cybersecurity and privacy, DEI, and more, including a panel discussion on the New Normal – Pandemic Changed the Expectations. 
Visit the 2022 Michigan IT Symposium event site on Fourwaves to view a complete event schedule, review posters and presentations, and register today.
Cost
Free! The symposium is sponsored by the office of the VPIT-CIO and organized by the Michigan IT Steering Committee.
Sign up to volunteer
Sign up to be an in-person volunteer at the Michigan League on Thursday, November 17. There are several opportunities and time slots to choose from. Note: All volunteers must also register for the event at Fourwaves.