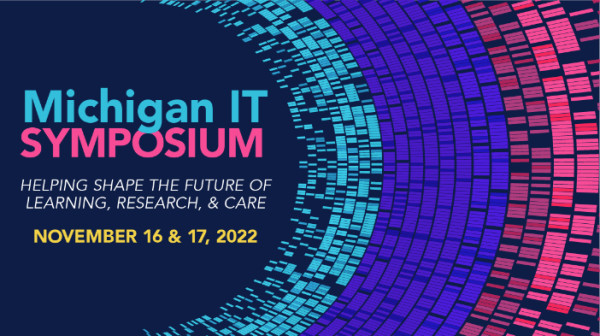 The 2022 Michigan IT Symposium takes place in two familiar formats this year, virtual and in-person. Plans are well underway to take the best of our previous in-person events and what we've learned from the past two virtual symposiums to offer a new hybrid experience for this year's symposium. Here is an overview of what to expect:
Day 1 – November 16: Virtual (half-day)
We are kicking things off at 1 p.m. on Wednesday, November 16 in a fully virtual, half day event for all attendees presented in Fourwaves, a new conference management platform. Ravi Pendse, VPIT and CIO, will present his leadership message followed by our keynote speaker. Attendees are then invited to interact with 17 poster presenters during the 2022 Symposium Poster Session all contained within the Fourwaves platform. View each poster independently, enter a virtual room to learn more about a topic and ask questions live or via chat.
Day 2 – November 17: Michigan League – Hybrid (full-day)
The second day of the 2022 Symposium is a full-day hybrid event taking place in the Michigan League. Join us in-person in the Ballroom starting at 8:30 a.m. for a spotlight session followed by your choice of 23 breakout sessions throughout the Vandenberg, Hussey, Kalamazoo and Michigan rooms. The day will wrap up with a closing spotlight presentation and closing remarks. Lunch and snacks will be provided for people who attend in person. Each session will be available to attend virtually over the Fourwaves platform.
There is still a lot of work happening in preparation for this year's event. Co-chairs Dush Fernando, LSA Technology Services, and Asmat Noori, ITS Information Assurance and the whole planning committee are excited to offer the Michigan IT Community the opportunity to come back together for the Symposium. Look for emails and updates from the planning committee regarding our speakers and a full schedule of events in the coming weeks. Registration will open the week of October 17.