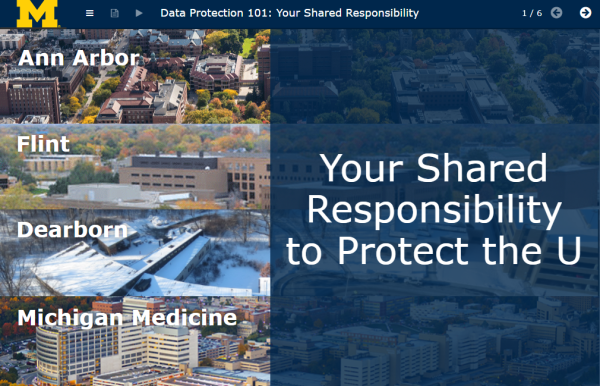 U-M employees and community members all share in the responsibility to help protect U-M IT systems and data. However, some employees may not be aware of or sufficiently prepared for this responsibility. A new course in My LINC, Data Protection 101: Your Shared Responsibility, is now available to all faculty, staff, and students. It provides a brief overview of:
Why it is important to protect U-M data and resources.
What risks exist and how to avoid them.
How to fulfill the shared responsibility for protecting the university.
Data Protection 101: Your Shared Responsibility does not replace other training resources. Instead, it introduces key concepts that are further explored in other courses, such as DCE101 U-M Data Protection and Responsible Use, and in the Safe Computing Training Curriculum. ITS Information Assurance (IA) recommends the new course for staff who join the university or current staff who may need a refresher.