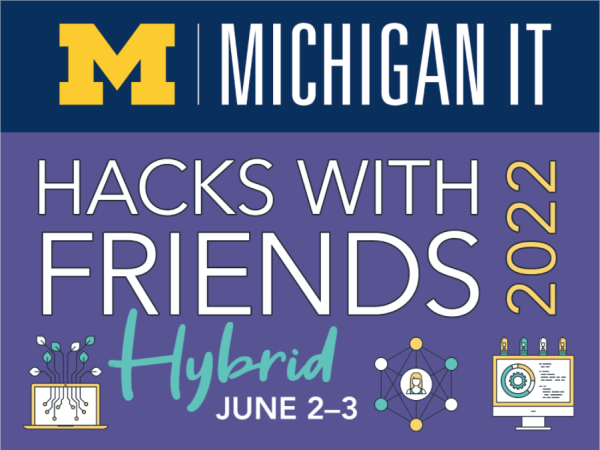 Register today for Hacks with Friends 2022—a fun-filled event where you have two days to break out of your confines, form a team, build a project (or hack) from scratch, and show it off in a competition!
The 2022 Hacks with Friends (HWF) will be a hybrid two-day event on Thursday, June 2 and Friday, June 3 at Arbor Lakes. Participants are welcomed to join in person or virtually and is open to any and all IT and technology professionals and advocates who work at the university, regardless of role. Project managers, analysts, developers, UX designers, documentation specialists, designers, security specialists, trainers, desktop support specialists, cheerleaders, or whoever else you are…We invite you to be a part of this "hackathon." Pick up new skills, make new connections, and explore new technologies and innovative ways of providing IT services. The only limit is your imagination.
Review the 2022 Pitches & Register
The 2022 pitches for hacks are posted and ready for viewing. Take a look at what has been submitted and see which one sparks your interest. You will select a pitch team to join when you register to attend HWF. If you aren't sure which hack team to join, a pitch open house will take place Thursday, May 19 via Zoom where you will have the opportunity to learn more about each idea.
Hacks with Friends is an evolution of an idea that began in 2013 with "MSIS Hack Day." The energy created from having a hack event for campus IT professionals grew. In the spring of 2015 an expanded Hacks with Friends event was tested with participants from ITS, MCIT, MSIS, and the School of Dentistry. The success of that event paved the way to open the invitation to the entire Michigan IT community. This year's Hacks with Friends is sponsored by the U-M Office of the Vice President for IT and CIO and made possible by the efforts of volunteers from across the Michigan IT community.
Visit the Hacks with Friends website page for event information.