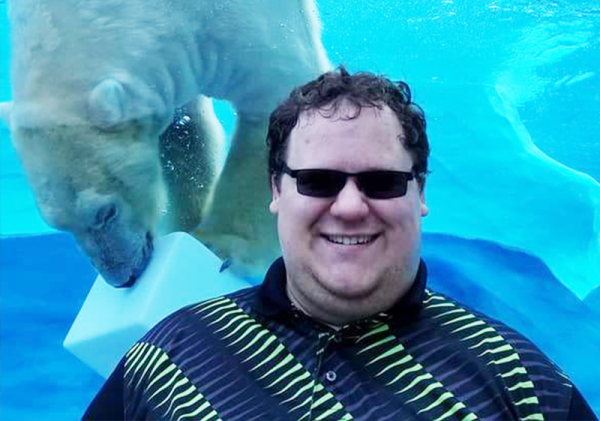 Thomas Stockwell started programming when he was in middle school and continued the programming route in high school. He started working at the UM-Flint International Office in 2011, while simultaneously earning his bachelor's degree in computer science. Prior to earning his Master's degree in educational technology, he became full-time staffer with a split position between the Office of Graduate Programs and the International Center at UM-Flint.
In 2017 he was hired into his current role at UM-Dearborn Information and Technology Services where he is responsible for coding and handling database functions. He and his team maintain enterprise applications, including: Banner Student Information System, DegreeWorks, and WebFocus. A large sum of his work is dedicated to database programming, requirements gathering, and troubleshooting issues.
What do you enjoy most about your job?
I enjoy the tasks I work on because they keep changing and I never get bored. Running into issues or problems that need solving is sort of a puzzle that I need to assemble. Solving the puzzle is very satisfying.
What is the biggest challenge you face in your work?
The biggest challenge is the ability to translate technical jargon into terminology that an average person can understand. For the most part, I feel I do this very well; however, for complex and intricate technical problems, it can be difficult to translate the jargon in a way that all users understand what is happening.
What advice do you have for people in this field?
Learning the SQL language for communicating with databases is incredibly important. The world is run on databases. The ability to troubleshoot and think outside the box is also an important skill to have.
How does your work impact the university?
My team does advanced troubleshooting, software development, and database adjustments for the university. If any software product fails to function, a ticket is submitted to my team for troubleshooting. We then troubleshoot and possibly engage with the vendor. Without this team, there could be widespread issues with students registering for courses, awarding degrees, or systems not functioning.
Does this field of work provide longevity for the future?
Yes, everything runs on databases and software is constantly evolving. There will always be a need for this work; the required skill set may change with new technology, but the position will always be needed.
What do you like to do in your spare time?
I'm an avid board gamer. My partner and I have close to 300 board games and we have been on a Board Game Cruise to Alaska, which was really fun. We enjoy the competitive nature of my favorite board game, Istanbul. The objective of the game is to get the gems from the gem dealer and the person with the most wins. Another game I enjoy is Elder Scrolls Online. The games we own are unique; many in which were developed overseas and have been candidates for the Spiel des Jahres board game award in Germany.