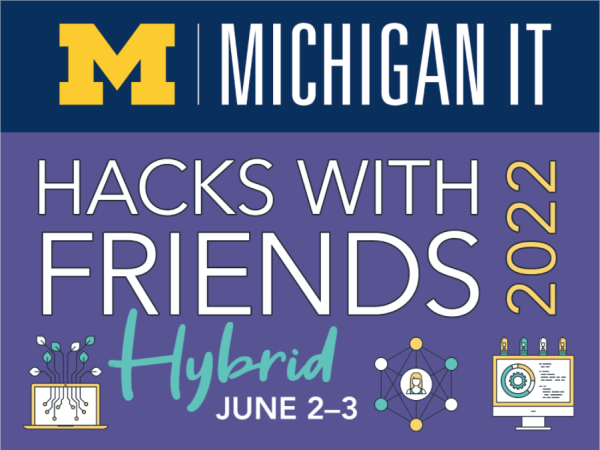 Mark your calendars and make plans to participate in the 2022 Hacks with Friends! This year's event will be a hybrid two-day event on Thursday, June 2 and Friday, June 3 at Arbor Lakes. Participants are welcomed to join in person or virtually. 
HWF is a spirited event open to any and all University of Michigan IT and technology professionals and advocates, regardless of role. Project managers, analysts, developers, UX designers, documentation specialists, instructional designers, security specialists, trainers, desktop support specialists, cheerleaders or whoever else you are…We invite you to be a part of this "hackathon." Pick up new skills, make new connections, and explore new technologies and innovative ways of providing IT services. The only limit is your imagination.
Call for Proposals
Do you have an idea for a hack? Pitch it to us! Pitch proposals must be submitted online by the end of the day on Friday, April 22. You will need to briefly describe the concept, list out the skill sets you are looking for to be successful, create a short video, and fit your pitch into one of the five 2022 HWF categories listed below. Please understand, if you submit a pitch proposal you are expected to lead the hack team that will work on your proposed idea at the event on June 2 and 3.

2022 HWF Categories
Mental Health and Well-Being: Explore ways technology can help provide support for the mental health and well-being of U-M students, staff or faculty.

Academic and Business Administration: Explore ways to leverage technology in academic and business offices, including remote or hybrid work environments, to provide solutions to eliminate routine, mundane tasks, provide improved interfaces, enable integrations between key systems, or remove redundancies.

Empowering Distributed Teams: Explore technological approaches for distributed teams to evolve and succeed in all aspects of the new work-life paradigm, including hiring and onboarding, productivity, collaboration, or professional development.

Cybersecurity: Explore new tool sets that will ensure university assets are secured in this rapidly changing digital world.

Diversity, Equity & Inclusion (DEI): Explore technological solutions to ensure that each member of the U-M community is given full opportunity to thrive.

Other: Your own original idea of how technology can be used to improve a specific discipline, the university, or its mission.
Visit the Hacks with Friends website page for specific event pitch submission information. Check out what happened at previous Hacks with Friends events and make sure you're subscribed to the Michigan IT Events list to receive the event invite when it goes out.