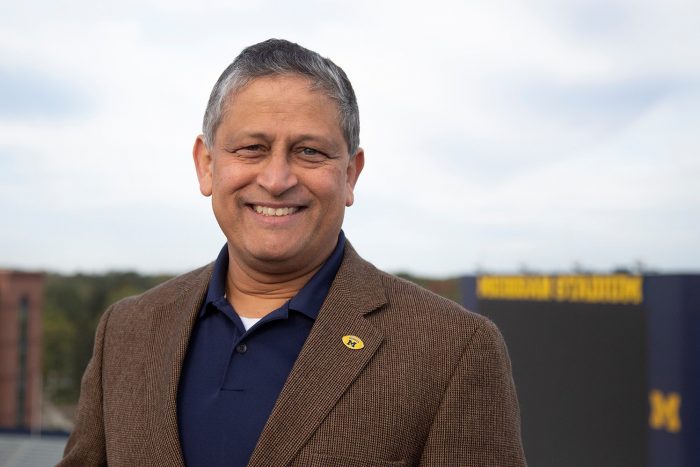 Greetings, everyone.
As we enter a new academic year, I want to extend a sincere thank you to everyone in the Michigan IT community for all that you do to support the university. For so many of us this is the busiest time of the year, marking the fruition of months of planning and preparation to welcome students and the excitement and activity they bring to campus.
I am honored and humbled to share that this fall also marks the start of my fourth year at U-M. Much of that time has been during an extraordinary and pivotal time for technology, with all of the unique challenges and hidden opportunities that the pandemic and remote interactions bring. It is outstanding how much we have accomplished as a community on behalf of U-M during the past three years, and the areas of focus I identified in my first year remain priorities today:
Elevate the customer experience: Proactive, laser-focused customer service is at the heart of what we do. No one service offered by ITS or any group on campus is an island, and many of the new services we've rolled out directly bring communities together: Zoom, TeamDynamix, and Slack. Supporting and using these in-demand and popular services take a community-wide effort and enable us to provide excellent service to our amazing students, faculty, and staff.
Secure an open society: Each one of us plays an important role in protecting our institutional and personal data. From the introduction of Duo Two Factor Authentication in 2019 to the implementation of Area 1, Virtru, and Crowdstrike this past year, much of our success in this area is thanks to the collaborative efforts from all areas of the university.
Support data-informed decision making: We are leading in how we empower our community of data consumers with the Michigan Insights oN Demand (MIND) Program. The program is changing the landscape on how the U-M community accesses and uses data to make data-informed decisions, and our partnerships are making that possible.
Deliver intuitive research computing solutions: The new U-M Research Computing Package exemplifies the impact we can have in support of world-class research and teaching—where data, computation, and machine learning are at the center of research and a cornerstone of learning. I am incredibly proud of the partnership and hard work that has led to this announcement that will benefit so many individuals across our research community.
Build a transformational network and systems: From bringing WiFi on the Diag in 2018 and WiFi 6E to campus and the day-in and day-out support and unique pandemic-related changes to our administrative systems, we are continuously building a world-class, transformation network and systems that exceed university demands. The work in this area is foundational to all that we do, and is successful because of the relationships we've built on campus.
When I first started at U-M, I asked this community to envision what it would look like for U-M to be a leader in the appropriate use of technology among our peers and beyond. Today, I renew my challenge to you: Envision again what it would take to be the leader in the appropriate use of technology over the next one, three, or even five years. Please email me your thoughts on where we can take each of these areas of focus in the future. Your voice and your work every day has an important role in shaping the future of IT at this amazing institution.
As always, stay safe and take care of yourselves. Wear masks, encourage friends and family to get vaccinated. These precautions work and keep our community safe. As with so much that we do, it takes all of us working together to be successful and healthy.
With gratitude,
Ravi
Ravi Pendse PhD
Vice President for Information Technology and Chief Information Officer
University of Michigan
rpendse@umich.edu