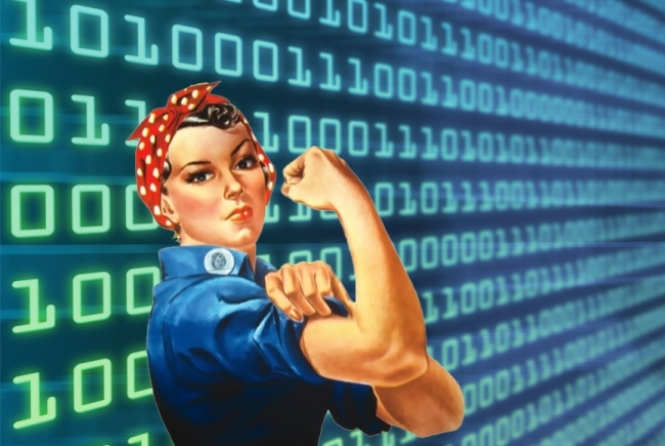 March is Women's History Month! In recognition, Michigan IT News invited the Women in IT Community of Practice to provide an overview of their organization and work.
---
The Women in IT Community of Practice (WITCoP) provides professional development and community outreach activities to support women's career growth, provide education on relevant topics, and seek ways to increase the number of women in information technology (IT) at the University of Michigan and in our communities. As a group, we also strive to help establish a collaborative and engaged network of people in Michigan IT to provide an inclusive, encouraging, and supportive environment within the organization. All are welcome to join and attend our programs.
Events and activities
We offer a wide variety of opportunities for our entire U-M IT community to participate with us. Some of our events include the following:
Hour of Code community outreach
Sponsored charity drives for the Ann Arbor schools and Detroit – Marine Toys for Tots
Speaker and panel presentations
Resume workshops
Interview workshops
Wellbeing events
Networking sessions
"I started working at the university last year and joined Women in IT my very first day. It was a priority for me because it's critically important to make connections with other women so we can help each other grow and thrive," said Stephanie Henyard, a disaster recovery planner with ITS. "The virtual coffee hours the group set up during the pandemic were a welcome social engagement opportunity when I felt so isolated from my new workplace."
Lynne Ertel, a business process consultant with ITS, agrees that her involvement with WITCoP has been particularly helpful during the extended work-from-home lifestyle many of us now practice: "The coffee chats during the pandemic have been a source of support and ideas to help navigate the current unique world we live in. I've found it to be very valuable."
In 2021, we look forward to taking advantage of our increased virtual presence through additional networking events, lunch and learn presentations, and other offerings, such as our February yoga class we held in partnership with MHealthy.
Get involved
We meet regularly through our quarterly programs and our bimonthly networking sessions. For more information about any upcoming programs, see our website. To stay up to date about our activities, please sign up for our email distribution list (women-it-cop@umich.edu). Women in IT thrives through volunteer efforts. If you are interested in contributing your time and ideas, please contact the Women in IT Planning Team at WIT.COP.planning@umich.edu.
Ertel credits WITCoP for supporting and encouraging her own personal career growth. "I have learned about programs and services our university offers that I might not have otherwise known about," she says. "This has provided opportunities for me to network with other professionals across the university, which have enriched my professional experiences and contributions."