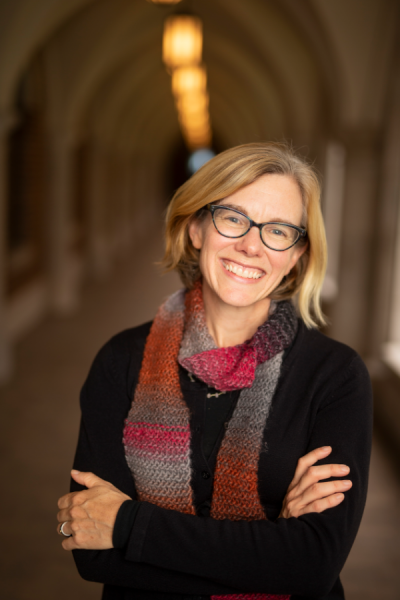 Have you ever thought about getting your Social Security number (SSN) tattooed on your arm? A number of people did just that during the early days of the SSN, according to acclaimed author Sarah Igo.
Igo, the Andrew Jackson professor of history and director of the Program in American Studies at Vanderbilt University, shared that and other stories about SSNs at her U-M Data Privacy Day webinar, Nine Digits: A Brief History of Data, Privacy, and the SSN, on January 28. The webinar was co-sponsored by ITS Information Assurance, the U-M School of Information, and the Dissonance Event Series.
Igo traced the SSN from its enthusiastic welcome as a public sign of inclusion in the American dream, through years of growing suspicion and distrust, to its role in today's world of big data, where SSNs are now considered to be very private, personal information.
In 1935 when the SSN was introduced, "The promise of economic security seemed to outweigh the spectre of big brother," said Igo. Most Americans quickly accommodated themselves to being numbered. For a while, there was a booming market for plaques, rings, bronze plates, and more engraved with one's SSN.
That changed quite suddenly in the 1960s with a major debate about privacy, noted Igo. She said that concerns were twofold: There were "technological fears of things like wiretapping and computing and political concerns stemming from distrust of authority around things like the war in Vietnam."
Said Igo, "SSNs hold a special place in today's pantheon of data privacy worries." Over time, a symbol of security came to be seen as a symbol of privacy insecurity. "It's unquestionable that we're living in a moment of deep unease about big data, about social media, and about what is more and more now called surveillance capitalism," said Igo.
Denise Anthony, professor of health management and policy at the U-M School of Public Health, facilitated a question and answer session with Igo in which they discussed shifting ideas of privacy. "Part of what changed in the story of the Social Security number is who American citizens put their trust in," noted Igo.
A recording of the presentation (57 minutes) is available, along with a transcript.
Matt Ranville of Information Assurance co-authored this article.