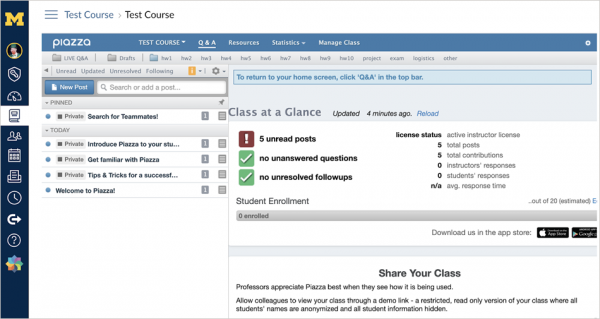 Information and Technology Services has worked with Piazza to secure a universitywide license for Piazza Q&A, an online forum used by many faculty to manage class discussions and Q&A. Many faculty have used Piazza over the past several years to address teaching and learning challenges specific to their courses and extend student discussion beyond the classroom. The new licensing arrangement means that Piazza will continue to be available to all U-M instructors, but with no advertisements.
"We are committed to providing faculty and students with intuitive tools, like Piazza, that not only improve educational opportunities, but help extend our culture of care and support for one another during COVID-19 and beyond."

VPIT-CIO Ravi Pendse
Piazza is a web-based, collaborative, real-time, question-and-answer platform that integrates with Canvas. Students can use it to ask questions and to contribute collaboratively to community-edited responses. Options are provided for students to ask questions anonymously. Instructors can provide answers and endorsements for student contributions and can edit and delete any posted comments.
Additional information is available on the ITS website. Over the next couple weeks, Piazza will also offer live, online training sessions specifically for U-M faculty. Sign up for live online training from Piazza.