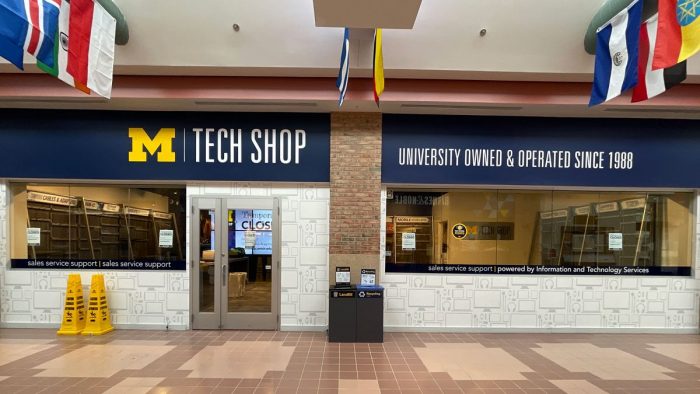 For the 2021 winter term, Tech Shop offers at-the-door pickup service at both campus locations—Michigan Union and Pierpont Commons. Pickup service is available by appointment only; both stores continue to be temporarily closed to in-person shopping at this time.
Service at the Pierpont Commons location launched on January 19 and is available on Tuesday and Friday each week. The Michigan Union location offers service Monday through Friday. The service schedule is subject to change based on demand, so customers should check store locations and hours before selecting a pickup location.
A UMID (MCard) is required, both to enter the building(s) and to process your Tech Shop order. In accordance with university guidelines, all persons must have their nose and mouth covered while on campus and in university buildings; also be aware of and adhere to the social distancing markers provided. Please reference the 2020-21 Campus Maize & Blueprint for complete U-M safety information and protocols.
Contact the Tech Shop with any questions.