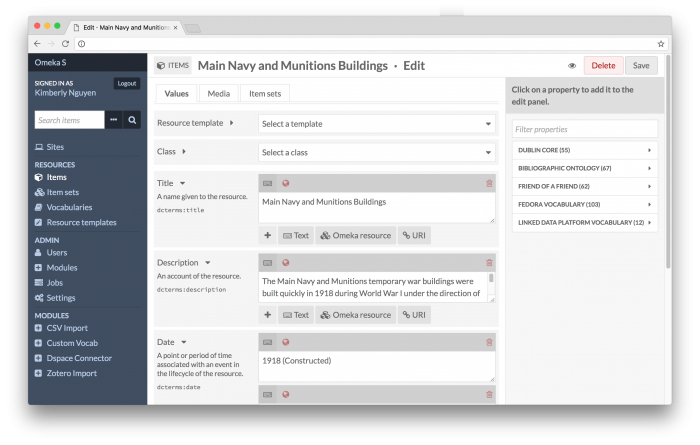 Introduction to Omeka S Workshop
November 11, 3 – 4 p.m. More info and register.
This is an introductory workshop for anyone curious about Omeka S, the popular open source digital collection and exhibit web platform. Omeka S is commonly used in digital projects for humanities and qualitative social sciences to create online collections of digital objects.
In this workshop, you'll learn basics of getting started, along with finding resources on and off campus. No experience necessary. A Zoom link for participation will be shared after registration.
NEH Awards and More: Strategies for Becoming Involved in NEH-Funded Projects
November 16, 11 a.m.–12:30 p.m. More info and register.
Presented by Jennifer Serventi, Senior Program Officer, Office of Digital Humanities, National Endowment of the Humanities
Attendees will learn about the many funding opportunities offered by the endowment. Serventi will address two related questions: 1) What opportunities are available to faculty and staff, with a particular focus on support for digital projects? and, 2) What kinds of strategies can they employ to take advantage of them?
She also will discuss ways faculty and staff can participate in NEH projects and special initiatives beyond applying for an award directly. Examples include serving as a peer review panelist, advising documentary films, evaluating archival collections as an advisory board member, participating in educational seminars and institutes, conducting research with support of a fellowship from an independent research institution, or becoming involved in the work of state humanities councils.