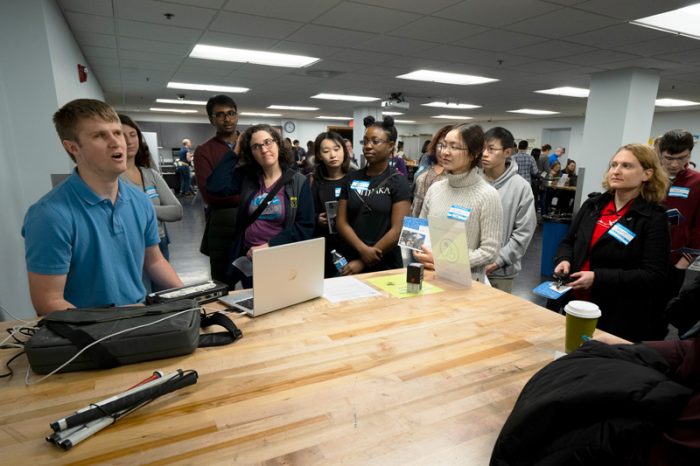 Brandon Werner is a screen reader specialist at the University of Michigan, where he ensures blind students have what they need in order to be successful in life and throughout college. Alongside his work as a screen reader specialist, Brandon reviews university websites like Canvas and Google to make sure they work with the screen readers and other assistive technologies.
Brandon began working in this field after serving as a volunteer at a college summer readiness program for blind students. As a volunteer for the camp, he was responsible for working with individuals who lived on campus and helping them with their technology needs.
Brandon graduated from Albion College with a degree in economics and management, after which he received a Master's degree from Western Michigan University in Blindness and Low Vision Studies. He has worked at the university for five years.
What is a screen reader?
A screen reader is software that takes what's on the screen and speaks it out loud, or outputs it in braille. Learning how to use a screen reader is not always straightforward. We want it so that people can use a computer as a means to an end. People often want the computer to get something done and do not want to deal with each technology aspect. As an example, when driving in a car, you want to get where you are going, without having to understand the details of how all the systems in the car operate.
What challenges have you encountered as a screen reader specialist?
One of the main problems I face working as a screen reader specialist are the limitations of the screen readers, because they often have difficulty with math, chemistry, physics, and speaking in different languages. Another challenge is ensuring students are paired with the best possible technology, and then ensuring they can operate that technology effectively.
Tell us about mentoring students.
I worked with someone who experienced sudden vision loss, who needed to learn how to use screen reader technology. The student worked with me and learned quickly how to use the computer. After a few weeks of hard work, they were back participating in classes and working with peers. It was powerful to see them learn the technology, and watch as their life took off. This is what makes me want to come to work every day.
What do you enjoy most about your job?
I like to meet new people and help students become successful. I also like to help those who have a positive attitude and engage with myself and team.
Alongside working with students, I like the part of my job that involves making technology on campus more accessible to staff and students. One recent successful collaboration was with the MPrint team on campus. It allows users to log in and print anywhere on campus. In the beginning it wasn't working with the screen reader, but I was able to work with the ITS MPrint team to reduce the accessibility barriers. It is now much more usable, reduces frustration, and has measurable impact. I have also worked with Instructure and the Canvas team internal to ITS, to make this software more accessible for users of screen readers.
What do you look for in choosing new assistive technology tools?
I look specifically for tools that will help students in any way possible. I choose tools that are easy to use, powerful, and provide functionality.
At the Knox Center where I work during non-pandemic times, there are adjustable tables and chairs. There are also computers with large monitors that have software installed to assist individuals with disabilities. This software includes screen readers, screen magnifiers, and voice recognition software. There is also a closed circuit television to allow students to magnify books and other materials, as well as a braille embosser that we can use to produce hard copy braille for blind students. We schedule appointments with students at this location where we help match them with tools that will make them successful in college and long term in their career. We also provide training on these tools, to ensure the individual can operate each tool to its full potential.
Tell us about the website work you do.
I review ITS websites using web accessibility checkers. We test against the Web Content Accessibility guidelines (WCAG 2.0 AA). I look for image alt tags which allow screen reader users to have descriptions read of images they encounter. We also ensure that all controls and form fields on a web page can be accessed using the tab key. This ensures that keyboard only users have equal access to the functionality of the site. Another thing we check for is properly labeled headings, which promotes ease of navigation for screen reader users. Another guideline in WCAG that we check for specifies color contrast guidelines, which ensures that low vision users can access the content. I then work with the ITS Digital UX team to get issues fixed.
What are you most proud of?
I am most proud of how the ITS Accessibility team has grown, building out accessibility resources at U-M, like our website which is accessibility.umich.edu. We have also established the e-mail address accessibility@umich.edu which serves as a common starting point for people to go for help.
What do you like to do for fun?
Indoor rowing to stay in shape (especially during the pandemic), read, go on hikes, and do computer programming.