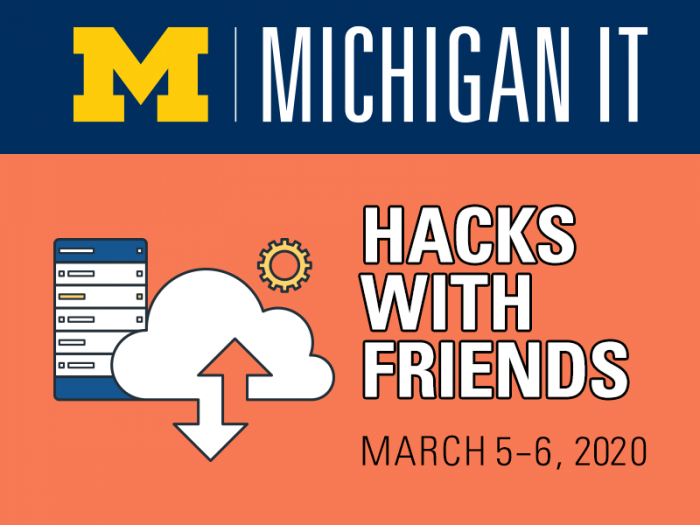 Excitement is building as a cornerstone Michigan IT event takes place later this week. Hacks with Friends 2020 will be held March 5–6 at the Ross School of Business. This is a fun-filled event where you have two days to break out of your confines, form a team, build a project (or hack) from scratch, and show it off in a competition!
Eighteen pitches for projects have been received across five categories: Parking, Research Storage, Sustainability and Carbon Neutrality, DEI, and Other. But only one can win the vaunted golden disk drive.
Campus units and groups will be well represented. Professionals from the following areas plan to attend, and you can still register to join them. Team sizes will be limited to 12.
CAEN (College of Engineering)
Center for Academic Innovation
UM-Dearborn ITS
Information and Technology Services
Life Sciences Institute
LSA Technology Services
Michigan Medicine/HITS
School for Environment and Sustainability
Register to attend
Looking to join a team? Register today for Hacks with Friends 2020. HWF is open to any and all IT and technology professionals and advocates who work at the university, regardless of role.
Vote online for your favorite hack
Not participating in creating a hack? You are still invited to vote using our new online voting platform for the best hack on Friday, March 6, at 12:30 p.m., following the team three-minute presentations of their hacks. Join us live in the Robertson Auditorium at the Ross School of Business or via live stream, register to vote, and choose your top three picks when voting opens. This will be the first reveal of what each team has created and will determine the top four teams who will go on to face our judges in the finals at 2:30 p.m.
You must register for voting by 12:40 p.m., Friday, March 6, to be eligible to vote. Once registered you will receive a confirmation message with more information about the 2020 HWF voting process. NOTE: All 2020 HWF participants are already pre-registered to vote.
Important Hacks with Friends links
Live stream the following events from the Hacks with Friends website

Opening Remarks by Ravi Pendse, VPIT and CIO – 9 a.m., Thursday, March 5
Remarks by Andrew Rosenberg, CIO for Michigan Medicine, followed by 3-minute presentations and voting for your top three hacks – 12:30 p.m., Friday, March 6
Final presentations by top four teams – 2:30 p.m., Friday, March 6
---
Joel Iverson, ITS Communications, contributed to this article.