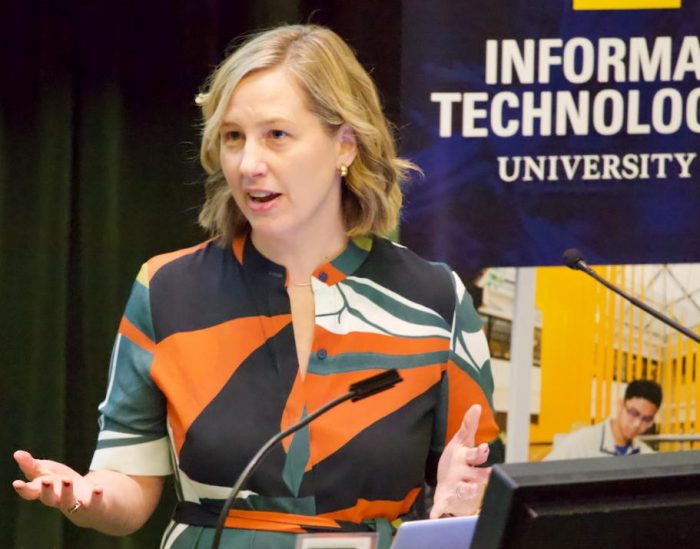 Faculty, staff, and students gathered for a half-day of privacy related speakers and panels at Privacy@Michigan January 28 at the Rackham Building on the UM-Ann Arbor campus. Privacy@Michigan is an annual event hosted by ITS Information Assurance and the U-M School of Information in recognition of Data Privacy Day. If you missed it, you can watch the recordings at Privacy@Michigan 2020 and see the Privacy@Michigan Twitter Moment.
The keynote was provided by Kathleen Kingsbury, editor of The New York Times Privacy Project, who spoke on a wide range of privacy issues. "The U.N. recognizes privacy as a human right," said Kingsbury, but noted, "There is no explicit right to privacy in the constitution."
She contrasted the "robust legacy methods around privacy," such as laws that make it illegal to open U.S. Mail addressed to someone else, with the lack of regulation around digital information. "Laws being introduced today are at least five years behind the technology," said Kingsbury.
She also called for new rules and regulations around data use and collection. "Congress needs to make opting out of data collection a meaningful choice," Kingsbury said. "Americans deserve the right to choose a life without surveillance."
U-M faculty who participated in two multidisciplinary panel discussions echoed that call.
"Traditional norms are outdated," said H.V. Jagadish, a professor in the College of Engineering and director of the Michigan Institute for Data Science. He said that traditional data de-identification no longer works. While you cannot be identified from a single record, you can be identified from multiple de-identified records if there is enough correlating data.
"We need to get away from the practice of 'as long as consent is clear, anything goes with the use of the data,'" said Florian Schaub, an assistant professor in the School of Information and the College of Engineering. "We need strong enforcement to ensure consumer protections in this country."
Jenny Radesky, MD, assistant professor of pediatrics at the U-M Medical School, called for more regulation around data collected from children. "In our research into apps targeted at kids, we noticed that many of them required permissions that weren't needed for the app to run," she noted. "A lot of data transmissions were sharing persistent identifiers with third-party domains."
Attendees got answers to their privacy questions from students at a privacy clinic and viewed posters showcasing privacy research at U-M. They were invited to share their thoughts about privacy in six words as part of the U-M Privacy Card Project. Take a look at what they said and add your own thoughts.