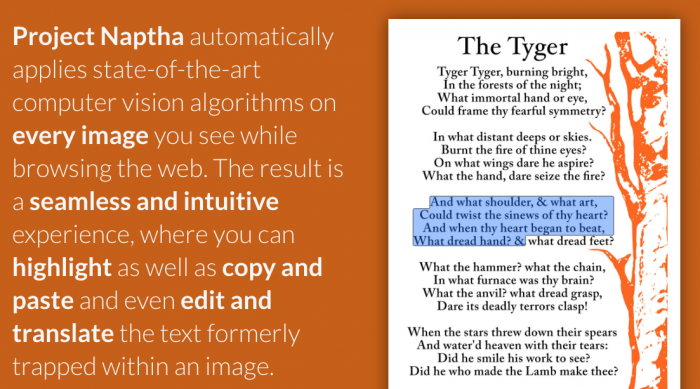 Project Naptha is a useful Chrome extension that enables users to select, copy, edit, and even translate text that is included within an image. In my experience it works surprisingly well, especially since this kind of tool typically requires special software and conversions.
Upon installing, the extension works in the background. If an image with text is displayed on the current page, move the cursor over the text and it will change to the little I-beam, enabling you to select the text. Ctrl+C (Windows) or Cmd+C (Mac) copies the text or you can right click the text to erase, edit, or translate the text into another language.
More information, instructions, and security/privacy information is available on their website. You may download the tool from the Chrome Web Store.
---
Have a cool app, tool, or tech tip you'd like to share? Contact Chase Masters. Please note that Tech Tips are personal recommendations and might not be officially endorsed or supported by U-M.