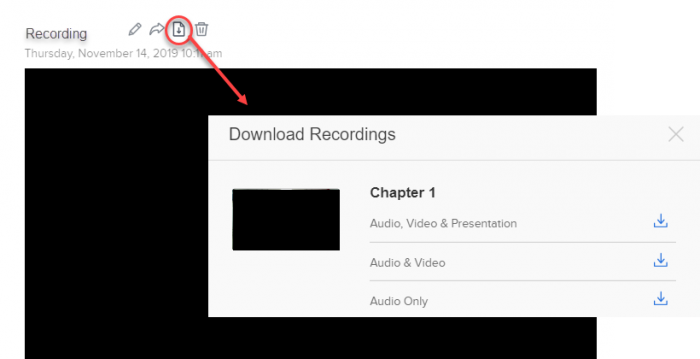 Don't forget to download your recordings within 90 days from the BlueJeans website after meetings take place. Once recordings are deleted, there are no backups and they cannot be recovered.
Previously, it was possible for BlueJeans Network to recover recordings that were lost by submitting a support ticket. Per a new policy, BlueJeans Network no longer keeps recordings on record.
Where should recordings be stored long-term?
ITS recommends storing BlueJeans recordings in U-M Box, which offers unlimited storage. Box at U-M may be used with some types of sensitive university data, including Protected Health Information (PHI).
When are recordings available?
According to BlueJeans, recordings are available on a 4:1 ratio. That means a 60-minute recording will be available approximately 15 minutes after the meeting ends. You'll receive an email notice when the recording is ready to download.
What format are recordings?
Recordings can be downloaded as standard MP4 files that contain both screen content and video. Audio-only files can also be downloaded in AAC format. Chat is not recorded, however, transcription files can be downloaded in SRT and VTT formats.
To learn more, see the vendor documentation for How to Download and Share Recordings as well as Recording and Playback Instructions.