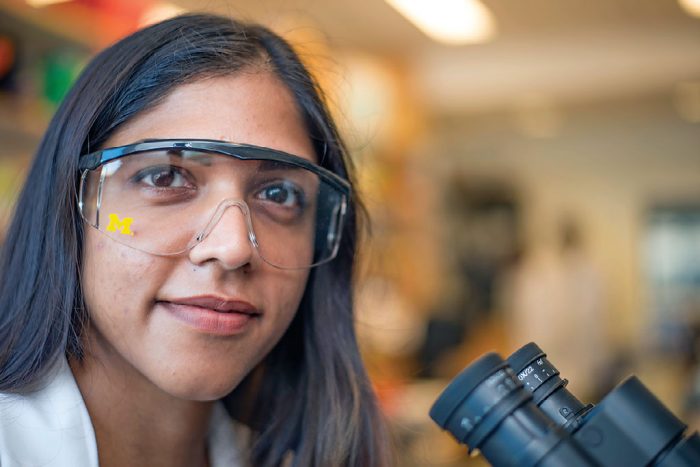 The relationship between research and IT is complex. Erin Dietrich, HITS senior director, and her team team are on a mission to strengthen the relationship between researchers and HITS, improve the customer experience, and raise awareness of IT services.
"In developing a strategy and vision for research IT, we have focused on defining the services needed to support innovative research at Michigan Medicine. We want to design for what researchers need: from consultation on grant applications, to storage resources, to integrating data and applications with institutional resources," Dietrich said.
For the past year, research engagement has been a priority, and HITS has worked directly with many groups, including key stakeholders, multiple divisions within HITS, and senior leaders in Research IT at Michigan Medicine. They are focused on finding the right support for research services, aligning strategic objectives with Michigan Medicine Research IT, deepening relationships with customers, being accountable when things go wrong, and advocating for customers.
To that end, Dietrich introduced the Research Liaison Pilot Program. The program team of five liaisons navigates IT solutions so faculty can focus on their science. The liaisons provide personalized recommendations and guidance for existing services, identify gaps in research support, aggregate needs across departments, and advocate for new and improved services.
"By establishing a regular presence in research departments, including office hours, attending faculty meetings, and conducting one-on-one discussions with investigators, research liaisons achieve a deeper understanding of research needs and align IT to enable groundbreaking research," said John Herlocher, interim manager, Research Engagement.
"Faculty and staff are reaching out during liaison office hours. Our liaisons, Ryan Echlin and Amy Yamasaki, are helping with navigating and leveraging resources, including any follow-up, which reduces the related effort that I spend on IT. And they help with communication, which increases efficiencies in the labs," said Karen Lang, chief department administrator, Cell and Developmental Biology.
Sherry Cogswell, chief department administrator, Biological Chemistry, likes the changes. "We've particularly benefited from the onsite office hours with research liaisons Einor Jacobsen and Debra McCaffrey. They've given the faculty members knowledgeable help, saving time and frustration, while building relationships and understanding."
The Research Liaison Pilot ran through the end of June 2019, and will roll out across all departments at Michigan Medicine.
Data storage was another priority for Dietrich, who hired Dan St. Pierre, director, Research Technical Services, to lead a team to address storage capacity shortages and a large backlog of requests that were taking months to fulfill.
Overall, this team is responsible for research computing, data services, devices and engineering, and programming and innovation. The team works with the Michigan Medicine research community to identify gaps in service and grow and expand HITS technical services.
Working with the HITS enterprise storage team, they were able to free up additional data storage capacity to continue fulfilling outstanding requests and procure additional capacity. While attending to the immediate storage needs of our researchers, HITS continues to plan and develop a more sustainable service model for research storage.
"In the course of bringing resolution to long-standing issues, we learned a lot. Now that we understand the problem, we can build new processes and bring greater transparency," said St. Pierre. "We're doing a lot of positive work in this area now that we understand the problems and need."
Together, research liaisons and the technical services teams collaborate with other U-M departments to provide seamless, high-performance computing services. They consult and recommend the best platform and software tools for research projects (including cloud), assist with workflow optimization, and evaluate emerging technologies and services.
"As machine-learning practices and demand on high-performance computing continue to grow, investing in and expanding these services becomes more important. Establishing strategic partnerships with U-M departments further enables and strengthens the computing services we can offer to our researchers," said St. Pierre.
Dietrich and her team are also collaborating with other HITS divisions, like Architecture and Operations Management. These partnerships have developed roles and responsibilities for research device support to ensure consistency, availability, and compatibility for installation, troubleshooting, virus remediation, driver resolution, and network share access. HITS can also help with customer order placement and tracking, repairs, data-center consolidation, and legacy operating system consultation and remediation. Research experiments sometimes run for days or weeks and cannot be interrupted. The coordinated support these HITS divisions provide is vital to achieve success.
"We've been working really hard to build a strong foundation for providing a more holistic support model for research at Michigan Medicine," explained Dietrich. "It takes time to build a strong foundation. That's what this past year has been about. Now we will begin to focus on how we can better support research innovation at Michigan Medicine."
---
This article was written originally by Stephanie Dascola, who is no longer with HITS. Contact HITS for more information about the article.