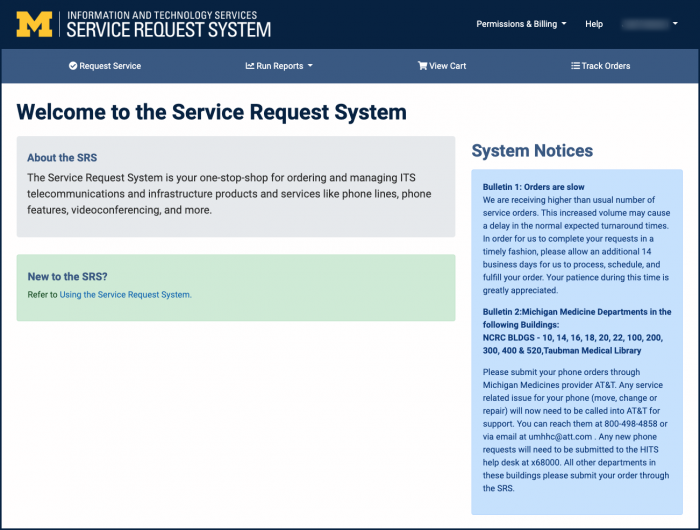 The ITS Infrastructure team successfully launched the new Service Request System (SRS) on Wednesday October 16, decommissioning the 16-year-old Online Service Center (OSC). The OSC used obsolete technology and had an outdated, non-intuitive web interface. It had also grown unreliable, experiencing routine outages, and had a high risk of permanent failure. The team set out to deliver a more robust solution that allows authorized unit IT and financial leaders, faculty, and staff to order ITS telecommunication services, view billing, and generate usage reports.
Preliminary research for developing the best replacement for the OSC began in the summer of 2018. Project team members from Infrastructure coordinated focus groups of U-M staff who used the OSC system. ITS listened to suggestions and recommendations from customers and technical research led the team to design the SRS with new features and an improved web interface to better support campus.
The SRS was developed with a Django (Python) web application framework and placed within a Docker container. It is comprised of multiple Django applications, one for each major function of the system, to reduce dependencies and allow better support for maintenance. As the system evolves, the ITS Infrastructure Telecommunication and Billing group will continue to partner with the Information Systems team on continuous improvements of speed and functionality.
Benefits of the SRS include:
An improved web interface with easy-to-use workflows on a user-friendly, and modern platform.
New roles (permissions) available allowing Department ID Managers to manage access effectively.
Improved security to be more in line with how access is managed in other ITS systems. Individuals will be deactivated who do not have an active affiliation with the university.
Increased reliability and reduced risk of permanent application failure.
Customer feedback on the new SRS has been positive. One customer expressed that they liked the new, clean SRS interface and appreciated having descriptions and details of various requests available. The estimator feature has also been cited as especially helpful when groups want an idea of what a move and new equipment will cost them.
The OSC/SRS project team will present an afternoon breakout session at the 2019 Michigan IT Symposium on Tuesday afternoon, Nov. 26, about the effort involved in retiring a 16-year old application written in deprecated code, and how Django (Python) helped to create a modern replacement that satisfies customer needs.