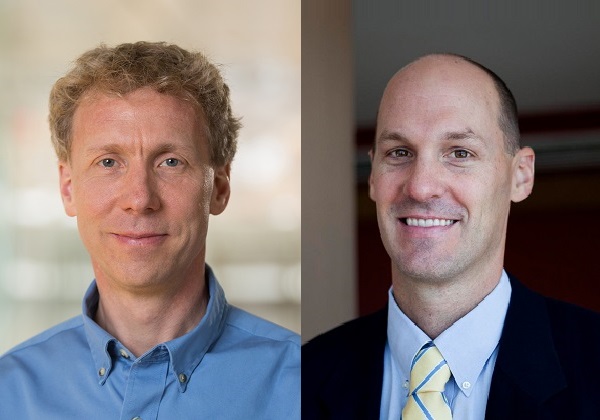 Pioneering computer technology that is spurring innovation and disruption across industries has earned David Blaauw and Dennis Sylvester, professors of electrical engineering and computer science, this year's Distinguished University Innovator Award. The pair will receive the award Oct. 22 at Celebrate Invention, an annual event that recognizes entrepreneurship and inventions from U-M researchers.
Blaauw and Sylvester have worked together at U-M for nearly two decades. Their research focus includes computers small enough to be embedded in the human eye or in a tumor. These devices can run in perpetuity on miniscule amounts of energy harvested from the environment and be used to detect glucose levels, track air and water quality, monitor soil conditions, determine the health of bridges, enable automated transportation systems, and track monarch butterfly migrations.
The Distinguished University Innovator Award honors faculty who have developed transformative ideas, processes or technologies and shepherded them to market.