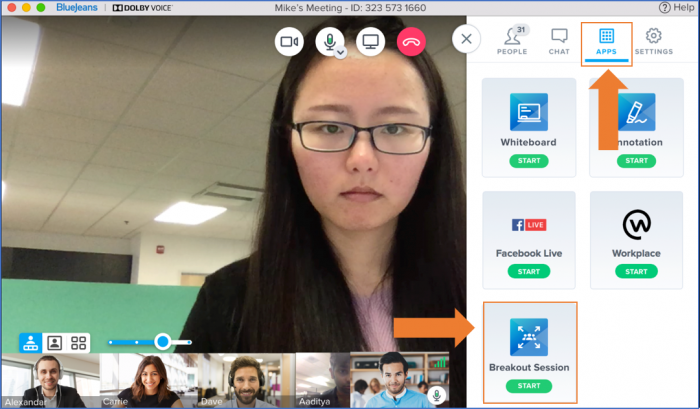 Information and Technology Services (ITS) and BlueJeans Network are bringing a new feature called Breakout Sessions to U-M's preferred conferencing service. Breakout Sessions allow meeting moderators to create separate rooms and move participants in and out of them as needed.
The feature is expected to be available to BlueJeans users in the U-M community this fall.
BlueJeans offers industry-leading videoconferencing, content sharing, and real-time video to the University of Michigan, and it is available today at no extra cost to your unit (BlueJeans units, except for University Hospitals, pay ITS annually based on their faculty, staff, and student headcount).
Breakout Sessions have been anticipated as a means to form smaller groups without the need to create additional BlueJeans meetings. For example, with one meeting ID, teams can now choose to separate into subgroups before rejoining the whole. Likewise, Breakout Sessions allows instructors to create separate, temporary work sessions as part of their virtual classroom curriculum.
Note: Only meeting moderators can assign users to breakout rooms. They can do so manually or randomly.
All features supported
As noted on a BlueJeans support page about the topic, "all features and functionality supported within main meetings are also supported in Breakout Sessions. This includes two-way video, audio, content share, chat, whiteboarding, annotation, and more. Features that require the Moderator will be accessible only if the Moderator joins the Breakout Session (e.g. initiating manual recording)."
App version 2.15 required
Moderators must be using the BlueJeans Desktop App Version 2.15 to control Breakout Sessions. Supported participant endpoints include:
BlueJeans Desktop App Version 2.15
Browsers: Chrome, Safari, Firefox
Mobile: iOS App Version 31, Android App Version 31
BlueJeans Dolby Voice Rooms
H.323/SIP Rooms (Unpaired)
PSTN Users (Unpaired)
Read more about Breakout Sessions in the vendor's documentation.
How to get started with BlueJeans
Visit the ITS website for details about getting started with BlueJeans.
Looking for training or support? For information about training resources, email HDVideoconferencing@umich.edu. For support, contact the ITS Service Center. Units that are outside of the scope of ITS, or that need classroom BlueJeans support, should contact their local units. Michigan Medicine users should contact help.medicine.umich.edu (Level 2 needed) or 6-8000.