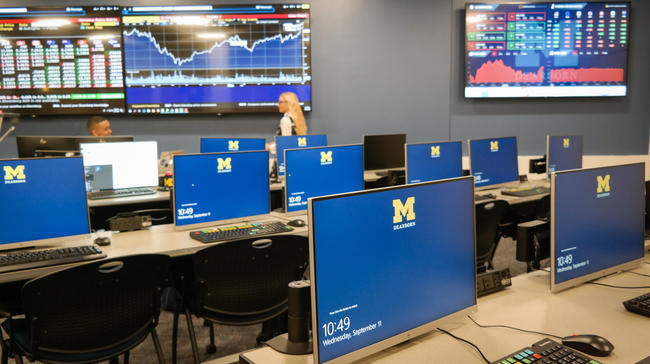 Dearborn's IT staff was busy over the summer with several improvements, some recently completed and others that are underway.
The Bloomberg Finance Lab
The College of Business' flagship learning space got a nearly down-to-the-studs renovation over the summer, including tech enhancements. The Bloomberg Finance Lab now features all new computers and monitors, new desks and chairs, four huge TV monitors at the front of the room, and high-efficiency LED lighting up above. The seating layout was also totally reconfigured, with a semi-circle layout replacing the small-group tables that left some students with their backs to the lecturer. Students and faculty will also soon see a giant stock ticker.
eTranscript
Dearborn ITS worked with the Office of the Registrar to partner with the National Student Clearinghouse (NSC) to provide transcript ordering online. This partnership allows orders 24 hours a day, seven days a week and tracking via text message or email. In addition, Electronic Transcripts (eTranscripts) are now available. eTranscripts (PDF) are considered official and delivery is offered as a free service.
Outdoor WiFi
Dearborn ITS Infrastructure team members are in the planning stages to provide wireless coverage to all outdoor spaces on the Dearborn campus.