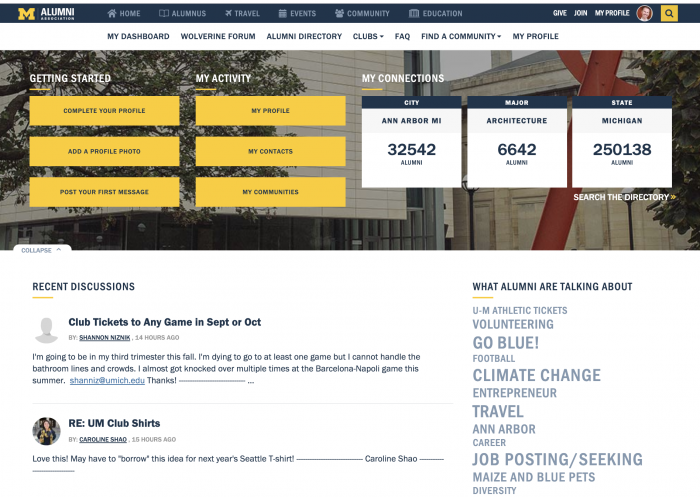 ---
In our mission to serve all U-M alumni and help them stay connected to each other and to the university, U-M Alumni Association recently launched Alumni Online Communities. This portal serves as an engagement platform where alumni can reconnect through an all-alumni directory and form community groups based on popular topics of interest to have meaningful discussions and share knowledge and experiences.
Our initial offering, the Wolverine Forum, launched as a single community for all alumni. Now the portal has expanded to include several other semi-public and private communities representing a range of interest groups, identity groups, class/degree-based groups, and others.
Partnerships
Business functions and IT resources across several units joined forces to make the portal a reality. Departments with active communities include School of Kinesiology, Emergency Medicine, Law Entrepreneurs, Zell Lurie Institute, and the College of Engineering Alumni Board. We are also in the process of finalizing community groups for Family Medicine, Michigan Athletics, Kellogg Eye Center, and Inter-cooperative Housing.
Two exceptional partners that made this whole endeavor a reality are the Office of University Development and ITS. We worked with the university's data steward for alumni and key members of her team, as well as with numerous ITS team members who helped establish data integration and governance structure.
We can now share access and engagement data with partners across campus, and avoid data silos by keeping the community portal in sync with Salesforce and DART as the system of record for alumni data.
Technology
We've adopted a platform from Higher Logic that is both mature and flexible to accommodate more than 600,000 U-M alumni, as well as hundreds of groups, moderators, facilitators, and system administrators—all while maintaining data integrity and uniform profiles for portal participants.
Engaging with alumni in meaningful and relevant ways is only possible if we "know" our alumni—beyond their names and email addresses. We truly strive to know them through their extended profile data and online activities:
areas of interest (both stated and observed, using AI technology)
employment info (including employment history)
education info (including non-UM degrees)
life stages (recent grad, recent parent, entrepreneur, retiree, etc.)
needs, interests, hobbies, and much more
Our move to adopt this platform has been driven in part by the desire to offer a safe, trustworthy, and reliable online community. Here, third-party organizations and social media outlets do not capitalize on alumni data. Instead, U-M protects that data and uses it to strengthen the connections between alumni and their fellow alumni as well as the university—all in the service of our mission to advance alumni connections and alumni success.
Next steps
As Alumni Online Communities grows and matures, we hope to continue to expand its footprint and add the participation of any campus unit that serves alumni in any capacity. We also know great opportunities exist to allow students (both prospective and current) to engage with alumni, such as mentoring, recruiting, and career development.
We will continue to collect relevant data to learn more about our alumni so that, in return, we can continue to offer relevant programs and services to them. We also hope to tie this platform to other systems to enhance our engagement with alumni across various domains and ultimately represent the university as leaders and best—truly making a positive impact on the world.