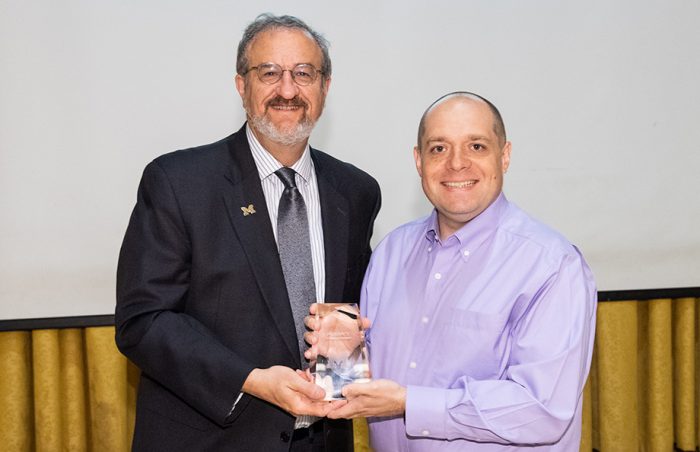 Jim Zajkowski, an end user computing supervisor on the MiWorkspace team in ITS Support Services, was awarded both a President's Staff Award of Distinction and an Individual Staff Impact Award at the annual University of Michigan Staff Impact Awards Ceremony. He was selected for his work on Izzy, a tool that facilitates Mac software distribution for more than 7,500 Macs on campus. The tool was originally created for LSA and is now used across the university.
U-M President Mark Schlissel, who presented the award, said Zajkowski was recommended in part for his "creativity" and "knowledge." Zajkowski's tool was described as the "'gold standard' of systems in the ITS community."
"Izzy […] is a powerful and versatile tool that provides hardware-independent operating system deployment and software distribution for Macintosh computers on campus. This has allowed for the standardization of system settings, encryption, and user accounts for Macs at U-M. Previously, Macs have been begrudgingly supported on campus due to their adverse nature towards enterprise management. The creation of Izzy has had a direct impact on the work of IT professionals by automating time-consuming tasks, reducing the efforts and costs associated with deploying, managing, and securing client systems. It also allows the user to pick software to install almost instantly by themselves. "

-President Schlissel
To view the full list of award recipients, visit the Staff Impact Awards website.