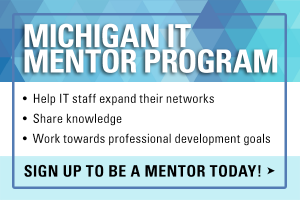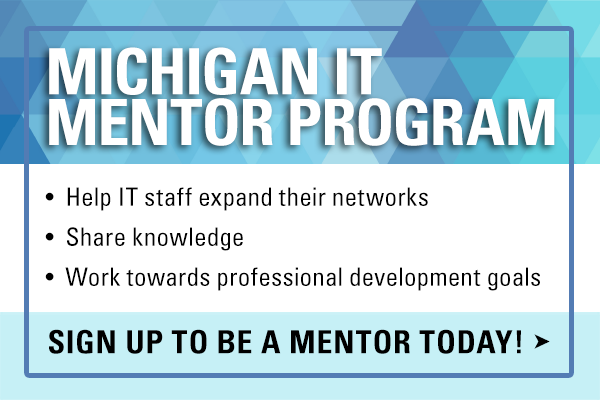 Calling all mentors! U-M IT staff are invited to sign up to be a mentor in the Michigan IT Mentor program, an opportunity for U-M IT staff to expand their networks, share knowledge, and work toward professional development goals.
Mentors who participated in previous rounds of the program shared that their commitment of time is relatively minor compared to the positive impact and outcome experienced from the program.
"I have participated in the Mentor program since the pilot, and I have found that mentoring is incredibly rewarding for both the mentor and mentee," said Kerry Flynn, chief information officer for the Stephen M. Ross School of Business. "The process provides opportunities to learn and share, gain new insights, and develop relationships and networks. It is a positive investment into the future and success of our workforce."
As part of this program, U-M IT staff can volunteer to be matched with a mentor within the Michigan IT community for a four-month period.
If you're interested in being a mentor, please complete this short mentor form. [NOTE: The Mentor sign-up deadline has been extended to February 28.] You will need to use your @umich.edu email address and U-M Level 1 password to access the form.
The sign-up form to have a mentor will open in March.
For more information, or to contact the Michigan IT Mentor Program team, please visit the Office of the VPIT-CIO website.
This article has been updated to reflect the updated deadlines of the 2019 Michigan IT Mentor Program.