Now in its fifth year, the Michigan IT Symposium continues to be the premiere event that brings together IT staff throughout the university to share ideas, meet new people, and reconnect with former colleagues. This year, more than 425 IT professionals from across U-M came together on November 28–29, to celebrate the expertise, innovation, and talents of the Michigan IT community. We thank all those who attended either in person or online, and we hope you enjoyed the event. 
Look for a full report on the 2018 Michigan IT Symposium and the complete photo gallery from the event in February. In the meantime, view the 52 posters and 21 presentations from the symposium on the CIO website.
---
Watch the keynote presentation
---
Relive key moments from Twitter
Live tweets from @umichTECH and others.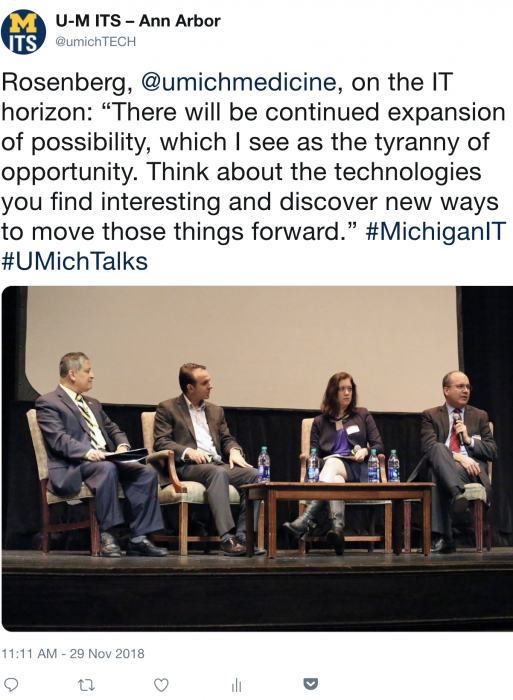 ---
Notable quotes
What did you like about the event?
(From the post-event survey) 
Reconnecting with IT professionals that have moved to different units across campuses.

Keynote was AMAZING.

You got to learn what other departments are working on. You met old and new friends.

The Keynote speaker was fantastic and the fireside chat with the CIOs was very insightful.

I mainly liked the keynote presentation. It was very informative and very in-the-moment (with its focus on DEI and stereotypes, etc).

It was just the right size, the venue was great, very interesting posters and presentations. Nice relaxed atmosphere. Very well organized.

Ravi's tone and engagement was strong, and the break-up of the IT Leaders panel and poster session time in the morning was great. Keynote speaker was fun and engaging and nice to see someone from outside but that was a Wolverine.

Many of the break-out sessions provided information that we could leverage in our own team's work. This was the first year that I attended and I plan to be back next year!
On sharing great ideas
This has been one of the best symposiums yet. I met people and saw posters that covered topics that we were looking into doing in the next six months. It was easier for us to learn from the poster presenter about their projects, and maybe join them in collaborating. It breaks down the silos and saves us a lot of money. For example, spending a few minutes looking at one of the posters and chatting with the presenter saved us $5,000 because they were willing to share their equipment, rather than us having to purchase it.

—Moe Daraiseh, IT Director, SEAS
On making new connections
This was my first year attending the Symposium, and I thought it was a lot of fun. I think the most valuable part of it was the opportunity to meet people in person who I work with digitally on a regular basis.

—Chris Stockbridge, Research Support Programmer, LSA Technology Services

This is a great networking opportunity, and it was good to see people I haven't seen in a while. I got to talk "shop" with people, and look for people who might know about the career I'm pursuing in med school training. 

— Jocilyn Wagner, Info Resources Assistant, University Library
And reconnecting with former colleagues
The Michigan IT Symposium is great. It's like a family reunion. I started working for ITS when I was 19, and I have worked with a number of people at this institution in every single role I've had. I love reconnecting with people and seeing what work they're doing. This event reminds us that even if people leave or change roles, we can always find new ways to work together.

—Ryan Henyard, Business Systems Analyst Senior, HITS
On getting inspired
Dr. Kyla McMullen's keynote was inspiring! She had a wonderful way of explaining her journey and the importance of diversity. When people with different backgrounds and mindset come together, wonderful things happen. The poster session is always a favorite part of the event for me; it gives me the opportunity to connect with IT people university-wide. The quality and breadth of the work at the university is amazing!

—Jocelyn Anderson, Web Applications Developer, LSA, Department of Psychology