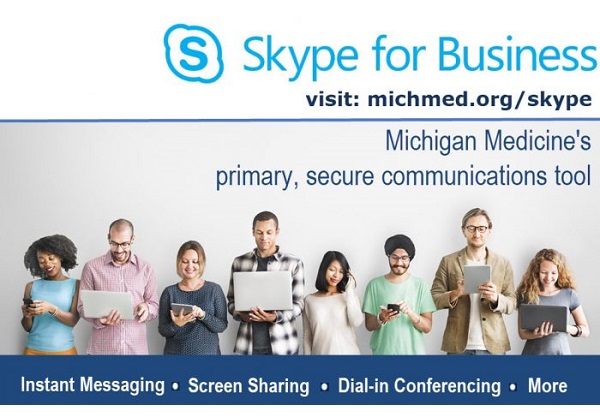 In November, Skype for Business "dial-in conferencing" became available to all of Michigan Medicine as the organization's primary business communication tool for audio/video conferencing. This feature enables users to set up or join an online conference directly through their Outlook calendars. Additional contact, support, and PIN information is included in meeting invites so users can now invite attendees from outside Michigan Medicine to participate.
About 30,000 Michigan Medicine employees are now using Skype for Business daily. It is Michigan Medicine's primary, non-clinical business communication tool for Instant Messaging (IM), screen sharing, and audio/videoconferencing – known as Dial-in Conferencing. It also offers seamless integration with the Microsoft Office suite, including Word, Excel, PowerPoint, and Outlook, and is safe for the exchange of Protected Health Information or PHI.
Visit the Skype for Business webpage for more information.