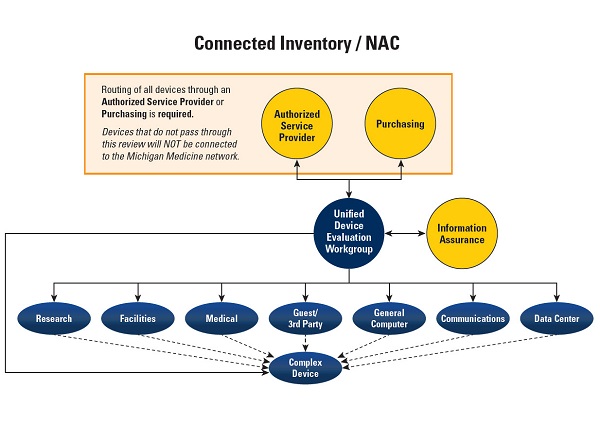 Michigan Medicine recently achieved a significant goal of ensuring that 100 percent of all devices connecting to its internal network by wire are accounted for, categorized by device type, and secured with the necessary protocols required to protect two-way communication from cyberattacks. A program to enhance network security and identify all electronic equipment connecting to Michigan Medicine internal resources was endorsed in fall 2016 by Marschall S. Runge, executive vice president for medical affairs and dean of the Medical School. 
Supporting the mission
Making the IT environment as secure as possible is integral to Michigan Medicine's three-part mission of supporting education, research, and patient care. The most recent accomplishment represents Part II of the Network Admission Control or "NAC" initiative, which concluded in January 2018 after successfully inventorying more than 95,000 devices. Part I of the NAC initiative—enabling the same security for all devices accessing the wireless networks—was successfully executed in April 2017.
"This has been a great effort and one of the largest IT projects at Michigan Medicine," said Joe Kryza, senior director of Health Information Technology & Services enterprise infrastructure and project co-sponsor. "We closed significant security issues, established a device governance model, and captured analytic information which will enable improved service delivery and guide our future budget and service planning."
Cross-team collaboration
The Connected Inventory/NAC effort required extensive collaborative efforts involving over 450 staff from the medical center, facilities, security, communications, research, and third-party vendors working together for over 18 months to meet its goal. The establishment of the common model of device governance now ensures any device within the Michigan Medicine infrastructure must be aligned with a trusted IT service provider for deployment.
Congratulations to everyone who was involved with or supported this endeavor.