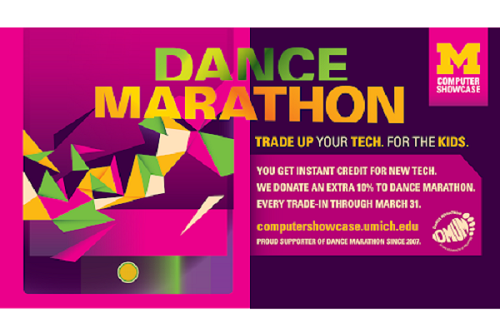 What happens when you trade up your old tech at Computer Showcase through March 31?
You get instant store credit toward a new technology purchase.
We donate an extra 10% of your trade-in value to Dance Marathon at the University of Michigan!
Your tech. Your computer store. For the kids.
Computer Showcase is making a donation to Dance Marathon for every hardware trade-in through March 31. Please help us spread the word to U-M faculty, staff, and students that their old tech can make a difference for this incredible student organization. Now is the time to use your tech for good, helping raise funds that make a real difference in kids' lives. No trade-in? No problem! You can still help! Add a cash donation ($1 minimum) to any purchase through March 31 and get a "foot" with your name on it in our store window.
Dance Marathon at the University of Michigan (DMUM) is a student-run non-profit dedicated to raising funds and awareness for pediatric rehabilitation programs at C.S. Mott and Beaumont Children's. Throughout the year, event dancers foster relationships with DMUM families and prepare for VictorThon where particiapnts stand for 24 hours to show support FOR THE KIDS! (This year's VictorThon will take place on March 24-25 at the Donald R. Shepherd Women's Gymnastic Center.)