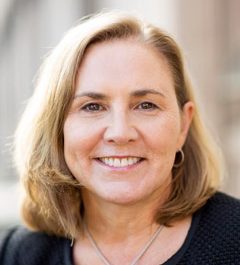 As you may remember from my last letter, or if you've seen me speak before, I like to start my talks with an ever changing list of five things I like about Michigan and Ann Arbor. Reflecting on the positives, both in my professional life and personal life, brings me energy and helps put smaller challenges in the proper light. My latest list includes:
The commitment of so many staff to make things better in your organizations and across the IT community. Volunteering for a mentorship program, participating in events like Hacks with Friends, or joining a Community of Practice such as the new Women in IT group all fall into the category of "Other duties NOT assigned." The number of staff that volunteer to make our community better through these opportunities  is remarkable and I feel fortunate to work with you at U-M.

Frita Batidos' Cuban street food, right around the corner from my apartment. Popping in to grab some takeout is so great after a long day, and even more so when I was able to share it with my husband and twins when they came to visit last month during their spring breaks.

How proud Michiganders are of their state and willing to share their favorite places with me. I asked my team in ITS for suggestions for what to do while my family was in town and I was flooded with fun activities and new places to visit while they were here. (The Victors for Art exhibit at UMMA, the Kelsey Museum of Archaeology, and the Fleetwood Diner were all highlights.)

The quality and commitment of the Michigan faculty to the improvement of learning and teaching across the institution and really the world. I had the opportunity to attend the Academic Innovation Forum on Broadening the University of Michigan Community last month and the U-M faculty panel was outstanding. The first of four

Teach-Outs announced at the event

started on March 31 and others start later this spring.  I have even signed up for few of these Teach-Outs as a way to see how the MOOC platform has evolved since its early inception. Like many innovations, it is MOOC's evolution over time that has made them most interesting.

The

triple-overtime win

of the women's basketball team in the WNIT championship game this weekend!
I am in awe of, and inspired by the grit our student athletes show game over game. It takes incredible focus and concentration to win a tournament with every game having it all on the line. We, as an IT community, need to continually stretch ourselves and work together as a team in order to make a difference in the University of Michigan as a whole and the respective fields we support.  Just as with any team, it takes time and  practice, but it's well worth it when we're able to contribute technology that  supports our  faculty and students who are changing the world with their research, works of art, and discoveries.
As always, please send me a note or stop and say hello if you see me on campus. I'd love to hear from you.
Go Blue!
Kelli
__________________________
Kelli Trosvig
Vice President for Information Technology and CIO
University of Michigan
Send questions or comments to Kelli through the Office of the CIO website or via email at trosvig.cio@umich.edu.