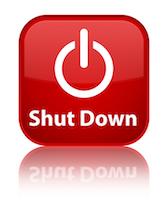 As winter break approaches, many of us are busy with holiday plans and are eager to finish up our work so we can relax with family and friends. But before you set up your away message and head out the door:
Help U-M conserve energy and money over the break:

Close and lock all windows to save energy and prevent water pipes and sprinkler heads from freezing and bursting.
Set thermostats to 68°F where possible for the building to operate efficiently and conserve energy.
Turn off all unused office equipment, including monitors, printers, copiers, fans, coffee pots, task lighting, and device chargers.
Turn off space heaters.

Help campus remain safe and secure:

Close and lock all doors.
Secure any valuables.
Lock desks and closets.
During the break, many buildings will be locked, residence halls will be vacated, most campus computing sites will be closed, and ITS will be operating on a reduced schedule. If you are working over the break and need assistance, call:
911 to report crimes and emergencies to university police
734-763-1131, the

U-M

Division of Public Safety and Security, for non-emergency issues
734-647-2059, the Plant Operations Call Center, for maintenance requests, including custodial service, groundskeeping, and parking maintenance
Don't forget! When you come back from the holiday break, double check to make sure all your equipment is plugged in and turned on before reporting any problems.