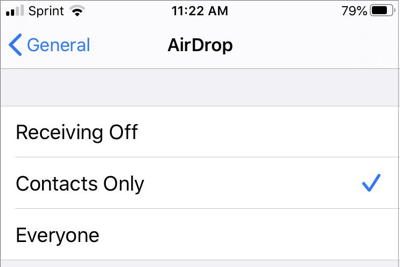 Turn off Bluetooth and other connections when you aren't using them, and limit access to your devices via Mac/iOS AirDrop. This helps you save your battery charge and protects you from unwanted material. Subway riders in New York City, for example, have reported receiving unsolicited nude images over open AirDrop connections. Members of the U-M community have reported inappropriate use of AirDrop in the past.
You can restrict AirDrop sharing to your contacts (the default setting) or turn off the feature entirely. On iOS devices, go to Settings, tap General, then tap AirDrop. See How to Prevent Unsolicited AirDrops to Your Apple Device (Mac Rumors, 7/23/19) and How to secure AirDrop on your iPhone to prevent unwanted photos on the subway (MacInsider, 8/15/17).
And if you turn on AirDrop or Bluetooth, remember to turn them off when you are done.